The fishing has been fairly typical for the month of August. There are fair, good and excellent days of fishing to be had. It's just a matter of timing. Note, I did not say 'bad' because we all know that there is no such thing as a bad day of fly fishing on the upper Madison River.
The smoke has cleared, but we are prone to the occasional haze when the wind switches to a more westerly angle. Fingers crossed as we knock on wood, but so far the Madison Valley has stayed clear of fire.
Mr. and Mrs. W showed up last week and they haven't really left. Gusts to 50 MPH from up river have been common. This past week was a good one for kite surfing in the afternoon. The weather is a on a general cooling trend into Labor Day weekend.
Speaking of this weekend. The Ennis Fly Fishing Festival is back on the 4th and 5th. Check out the Madison River Foundation website for information on the event and schedule of activities and seminars. Remember to purchase your raffle tickets as well. This is your one and only chance to buy a $10 Clackcraft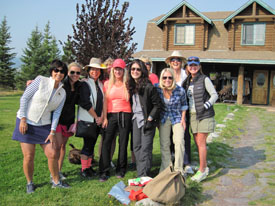 Drift boat and support the health and future of the Madison River. Dan Delekta will be on hand demonstrating how he ties some of his most proven patterns. You can catch him between 2-3 pm on Saturday.
Anyways, back to the fishing. The FWP is conducting some electro shocking on a consistent schedule through September. Check in with the shop each day to find out when and where.
It's hard to tell you what type of fishing and what patterns have been working best because guides and recreational anglers have been using just about every one of our 5,000+ patterns. In the late summer, many things are happening that cause these trout to be tougher to catch. Anglers have to adapt to changing conditions, whether it be water temperature, sunlight, wind, barometric pressure or increased boat traffic. If you fish streamers, dries and nymphs and don't mind changing flies frequently, you can quickly figure out which method of fishing is most productive on any given stretch of river.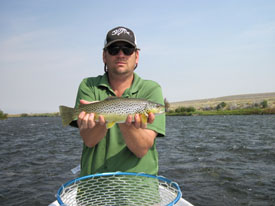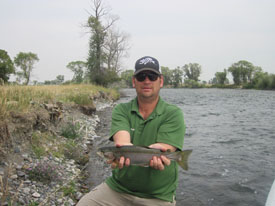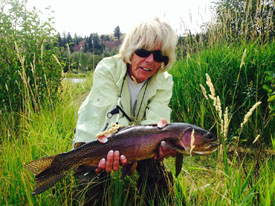 A general rule of thumb for the variable conditions could be:
Warm, clear and windy – hoppers and flying ants with a dropper fished down the middle of the river should produce
Calm, clear and warm – small double dries or small double nymph rig
Cool, cloudy and calm –large streamers fished tight to cover in the morning, dead drifted scuplin and nymph/worm all day and midge patterns in the afternoon.
Cold, cloudy and windy – double nymph rig or sculpin fished close to the boat while sitting down with a beer in one hand and a fly rod in the other.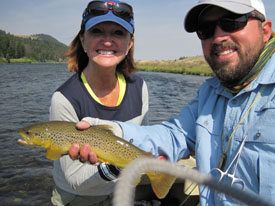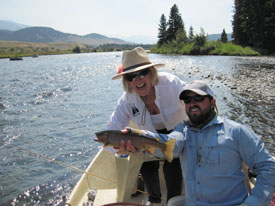 Effective patterns this past week:
Dries: #12-16 Royal or Purple Delektable Chubbyness, #12 PMD Parachute Rusty Spinner, #12-16 Parachute Adams, #12-16 Purple Craze, #12-14 Fat Albert, #12 More-or-less Hopper, #12 Grandhopper, #16 Yeager 409, #16-18 Delektable Flying Ant
Emergers: #20 BWO Wonder Nymph, #18 Flashback Baetis, #16 Olive Soft Hackle Caddis, #20 Bat Wing BWO
Nymphs: #16-18 Delektable Sure Strikes, #16-18 Copper Johns, Ian's Secret Black Stone, #8-12 Pat's Rubberlegs, #18 Black Zebra Midge, #16-18 Delektable Hammerheads, #16 Lightning Bug, #8-18 Prince Nymph
Worms: #10 BH San Juan Worm, #8 Red Steel Worm, #8 Pink Delektable Hot Head Worm
Streamers: #6-8 Copper Zonkers, Sheila, Trevor, Sundell's Badboy, White Delektable Screamer, Olive Buggers, Slump Busters, Mice.
-Parker