Dan's father, John "Grandpa" Delekta, began fishing when he was around 6. His interest in the outdoors led him to spend almost 40 years in the sporting goods business in upstate New York. During his early adulthood he was a spin fisherman, but later transitioned into fly fishing. Grandpa retired in 1990, the same year that Dan opened the Beartooth Flyfishing Lodge. Also in 1990, Grandpa began spending every Summer at the Lodge, and had since become a full-time Montana resident. Along with fishing the Madison River, he also remained busy doing most of the packaging for the Beartooth Flyfishing product line. Even in his 80's,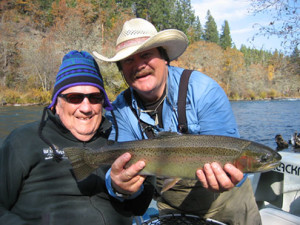 Grandpa worked almost every day, and was an invaluable member of the Beartooth Flyfishing team. He was noted for his merchandising acumen and the well known fly "six-packs" he created and helped maintain for the shop.
Grandpa really loved the time he spent fishing with his son and Nancy. He had also been with Dan and Nancy to the Rogue River in Oregon for steelhead fishing and to Andros Island in the Bahamas for great saltwater fishing. It's remarkable to consider that Grandpa and his son fished together for almost 50 years; a unique accomplishment in this day and age. Grandpa is now part of our loving family and fishing memories and will be missed. When we sit on the porch in his chair where he sat with Tippet by his side, we will be thinking of Grandpa.