Today was a very interesting day with different reports. Our friends Ross and Emmett,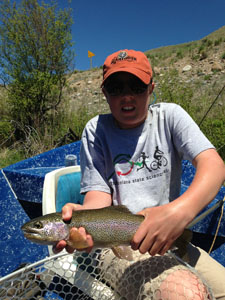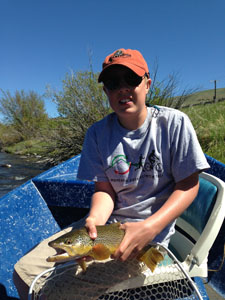 especially Emmett scored heavily on a float from Lyons to Palisades. Emmett is doing really well learning to tie his own flies and is a young serious fly fisherman. We expect Ross will have him rowing someday soon. They sure have fun fishing together, father and son.  Emmett scored using the Delektable Brown Stoner, Pat's Orange and Brown Rubberlegs, and a Hare's Ear Nymph.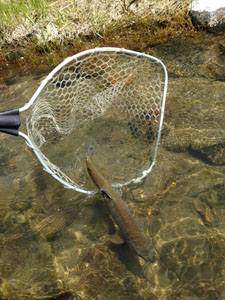 We had two other friends who don't know the river and had a challenging day, we think most of the challenges go with the fact it was a sunny day and required special technique to find the line.
Nancy, Dan, and long time steelhead fishing friend Jamie, floated Palisades to McAtee in the afternoon and did work for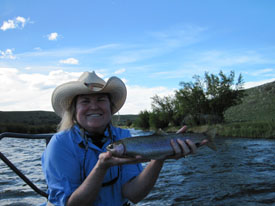 their fish but caught a number of small to medium sized trout and missed some bigger ones. They tried almost everything with the best results on a Chubby with a Caddis behind it, a Chubby with a small nymph behind it (Tungsten Rainbow Warrior, Tungsten Prince, Delektable Lil' Spanker in Blue). A Two nymph rig worked with Pat's Brown Rubberlegs size 8 and smaller nymphs as a trailer. They also tried Streamers and Double Screamers but the sun stopped the action on streamers.
Nancy