Last night, Dan Greene and I set out from our camp at Ruby Creek to give Dan a refresher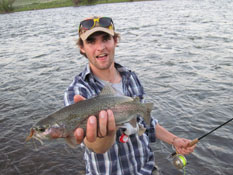 in fishing the Madison after his two week hiatus on the east coast. The water has come up just a bit and is starting to get a little murkier. Visibility is still over a foot though and the fishing well…great! Things started slow for us with a long hike up river, but picked up quickly once we wetted our flies. I missed a nice rainbow on an "undisclosed large dry" to start things off and got a dose of dry fly fever though the rise was tough, and I knew I wouldn't be cured until I pinned one with a large dry. Eventually I hooked into a nice fish on my hunk of foam and continued to get action for a little while right before dark. I also caught a couple dropping a # 14 Delektable Lime Juice off my large dry.
Dan Greene abandoned the dries and started sinking nymphs in deeper runs. He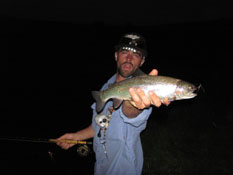 caught a small brown and rainbow on a #4 Delektable Megaprince and #6 Delektable Gray Hurless. Right before dark, his action also picked up and yanked a few nice rainbows out of a deep run with his double stone rig. The pictures say it all! All in all, the evening worked out as planned. We both caught fish, and Dan settled back into Montana fishing. It was a good night.
John