We were greeted with a blast of winter at the beginning of the week. Lots of accumulating snow and high winds brought drifting snow and lots of shoveling to all of us here in the Madison Valley. We were grateful for a plow rescue from a friend. Thank you! The boat ramps at Varney and above were out of commission for a couple days but cleared up within a couple days. Now things are back to normal October conditions and we've had some pretty darn nice weather since Wednesday.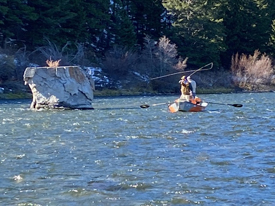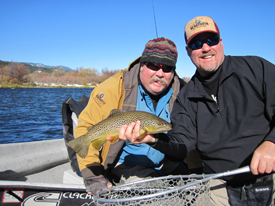 The front that moved through sure got the Big Browns of the Madison moving around and chasing quite well. Some very good streamer and nymph fishing was had the second half of the week. If you could find some spots shielded by the "W" there were trout sipping BWO's in the soft pockets around rocks and near the banks.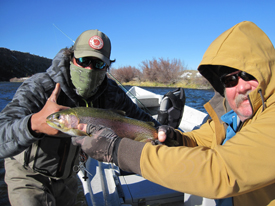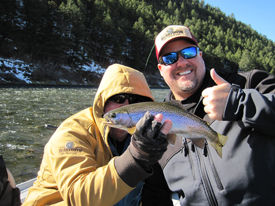 Fall is here to stay and it won't be long until we've all wondered where this season went so quickly. So get out on the water if you find a day to your liking and enjoy the last few weeks, before the snow is flying in earnest.
Flows still remain low so if you're looking to squeeze in a last float or two before storing the boat for the season, your best bet will be up higher in the Lyon's to Mac section. The water up top is just fine for floating without beating up your hard boat.
Dries: Delektable Sparkle Bug Olive, Dark Olive, Gray #18. Delektable BWO Teaser #18-#20. Delektable BWO Squeezer #18-#20. Brook's BWO Sprout Emerger #18-#20. BWO Sparkle Duns #18-#20. Parachute Adams #18-#20. Carlson's Purple Haze #18-#20.
Nymphs: Delektable Mega Prince Standard and Flashback #10. Delektable Guide Stones Black #10. Pat's Rubberlegs Black #10-#12. Formerly Known as Prince #16-#18. Delektable Prince Brandon #16-#18. Delektable Lil' Spanker Silver, Pheasant Tail, Blue #18-#20. Lightning Bugs #16-#20. Pheasant Tail Nymph #16-#20. Geppert's Master BWO Emerger, Geppert's Mega BWO Emerger.
Streamers: Delelektable Single and Double Screamer Olive, Black, White, Olive/Black. Zonkers Natural, Copper, Olive. Galloup's Dungeon and Mini Dungeon Black, Olive, Olive/Black Barred, Cream. Galloup's Boogie Man Black, Olive. Mini Loop Sculpin Olive and Natural. McCune's Sculpin Olive. Coffey's Sparkle Minnow #6.