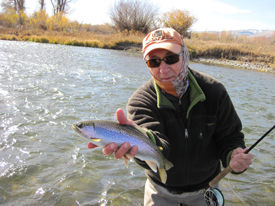 It was an interesting week weather wise here in the Madison Valley with lots of wind and some rain and snow but the forecast for this upcoming week looks a lot more fish friendly. Flows have been consistent at 940 c.f.s. below the dam at Hebgen, 1020 c.f.s. at Kirby and 1170 down at Varney.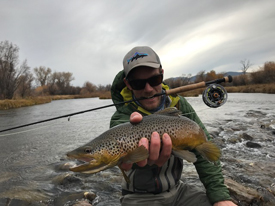 The nymph fishing has been producing some quality fish especially later in the day when the waters warmest. Prince nymphs, Rubberlegs, Delektable Pheasant Tail Lil' Spankers, Red Copper Johns and Worms have all gotten it done out there over the past few days.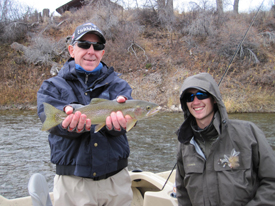 Still the same song and dance on top, BWO's and October Caddis. I'm expecting some good hatches this week with the weather predicted to be a little warmer (high 50s and lower 60s) so you dry or die guys should get a good late season fix. I'd be sure to have a couple Delektable Ranch BWOs in the box as well as some Adams and Purple Crazes and as the light dims in the evening skate a big October Caddis pattern around.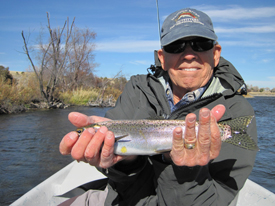 The streamer bite has been pretty good but not what we'd expect for this time of year, I'd count on that improving from good to great in the coming days. The olive and black Delektable Double Screamer has been my go to streamer as of late but we've also seen action on Galloup's Sex Dungeon, pearl Zonkers, Trevor's Sculpin and the white single Screamer. I've had the best luck on slow short strips and swings.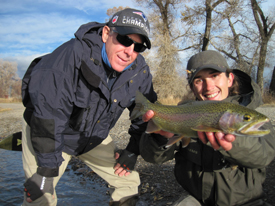 Be sure to call or stop in for any other tips you may need before heading out to enjoy the river and as always, check back next week for another up to date report