As our season seems to be winding down and less busy with the Holiday Season upon us, we'd like to of course give thanks to all of our loyal customers and their support throughout 2021. It was a year that saw early high temps, and the first Hoot Owl closure on the Upper Madison ever. We all persevered though and enjoyed a great summer fishing on the river we all hold so Dear.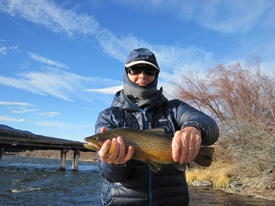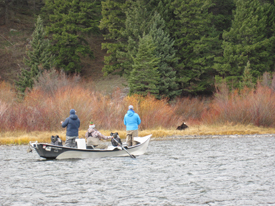 The last few weeks have seen unseasonably warm fall days, some cooler days, and the wind has been blowing many days. Welcome to Montana Right!?! Fishing has been solid to excellent many days. Flows remain low throughout the Upper and water temps are in the low to mid 40's most days currently. The Trout are still hungry and attempting to fatten up for the long Winter ahead. Brown's are spawning so keep an eye out for those Redds as your out wading the river. And of course let them do their thing in Peace.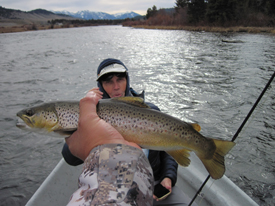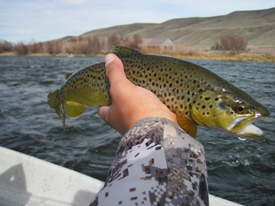 For the Dry Fly enthusiast out there we have now transitioned into Midge time. If you can pick the right day with calm to no wind there are a surprising amount of heads up in the soft pockets along the banks, and behind the rocks in the Upper Wade Section.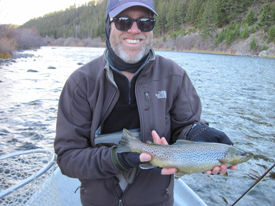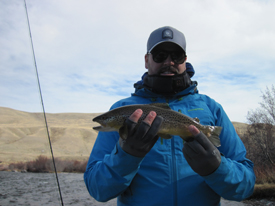 Nymphing remains the most consistent method of catching and landing right now. Smaller Stonefly Nymphs, Midge Pupae, Worm and Imitations, and Small Attractor style Nymphs with a bit of flash are doing the job. And of course some of the year round producers like Pheasant Tails, Delektable Lil' Spankers, Shop Vac's, and $3 Dips.
Streamer action remains solid. Everything from Buggers to the Big Articulated Nasties are on the menu depending on the day. Just have a good rotation of patterns and colors available and you should have some hookups and the possibility of that Two Footer we always hope for.
Swinging the shallow riffles and softer water with a Soft Hackle is also producing well. Don't be afraid to swing a larger brighter pattern this time of year. A size #10-#14 pattern with some color and flash can bring some amazing fish in this time of year. And those big bruisers sometimes are hiding in those little riffles. Keep in mind we are not necessarily matching the hatch right now. We are targeting those larger migratory fish. So whether you do this with a Single Hand Rod or are a newly converted disciple of the Trout Spey game there is just something about that grab on a Softie.
Dries: Parachute Adams #18-#22, Carlson's Purple Craze #18-#20. Griffith's Gnat #18-#20. Brook's Sprout Midge Olive #20.
Nymphs: Delektable Mega Prince Standard and Flashback #8-#10. Delektable Lil' Spanker Pheasant Tail, Silver, Red, Blue #16-#20. Delektable Tungsten Bead Head Big Spanker Warrior #18. Rainbow Warrior #18-#20. Zebra Midge Black, Red, Olive #12-#20. Formerly Known as Prince #16-#18. Pat's Rubberlegs Black #10-#12. Worm Imitations #4-#12.
Streamers: Delektable Single and Double Screamers Black, Olive, White, Black/Olive, Brown/Yellow, Badger.
Galloup's Dungeons Standard and Mini Black, Olive, Cream, Olive/Black Barred. Zonkers. Coffey's Sparkle Minnow. JR's Conehead Olive.
Soft Hackles: Full Dressed Red, Partridge and Olive, Partridge and Orange, Partridge and Purple. Hare's Ear Soft Hackle, Pheasant Tail Soft Hackle. #10-#16.