This week blew, literally. Lots and lots of SW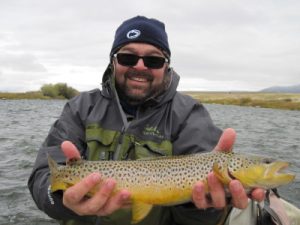 wind. But Madison River fly fishing remained steady as the season slowly winds down. With plenty of sunshine and warm temperatures, the fish seemed to be gradually entering their spawning routine. On sporadic overcast days we had reports of fish moving out of the lakes and responding well to eggs. That action slowed down considerably with the abrupt shift back to a dominant high pressure system.
Wylie Connor Scored a really nice spawning brown while fishing with Dad, Chris, and sporting his new hat. John and Will fished with Dave and had a great day which provided a completely new outlook on catching nice sized trout in the Madison for both John and Will. Will landed his biggest Rainbow ever. Nice trouts boys!
John and another John both had good days despite tough conditions for casting. The fish still took the flies and they landed some nice trout.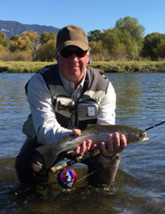 Howard sent us a photo of a nice Rainbow he caught below Ennis on his new Burled Wood Beartooth Rod he bought to match his Grateful Dead Reel from his family. Nice fish Howard!
-Parker and Nancy