Fall is just so very sweet in the Madison Valley! This year is shaping up to be gorgeous weather wise, sunny with the mid 60's to low 70's! The fishing has just been splendid this past week, nymphing being the most productive means of daily catching. However, the overcast days have been accompanied by Black Caddis, October Caddis and BWO's. Also don't count the Hopper and Ant out yet, they are still out and working. Dry and Emerger/Nymph combos have been productive, especially if you stick to your guns and fish it consistently. Trout have begun to attack aggressively to a stripped Streamer and are holding in shallower water.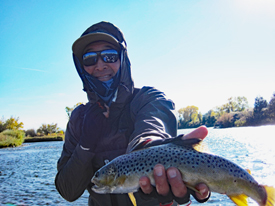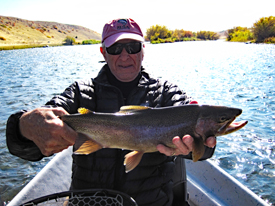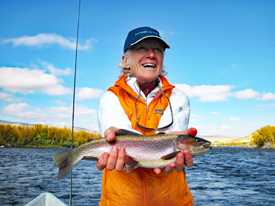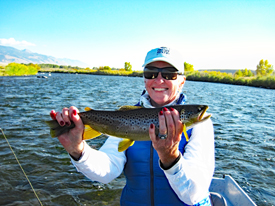 The water flows have stayed consistent this week, 760cfs @ Kirby and 940cfs @ Cameron. These lower flows keep the fish spread out throughout the River. So be sure to try a variety of locations so you are fishing water all over, especially in shallow runs (big trout are hiding out looking to eat a tasty Lil' Juvenile)!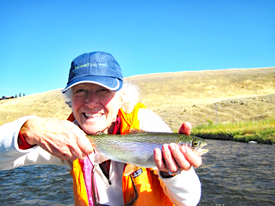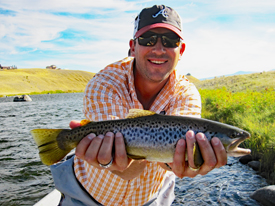 As always, have fun out there, fish hard as Winter is coming but hopefully not too soon!!!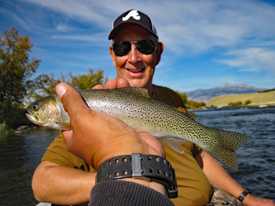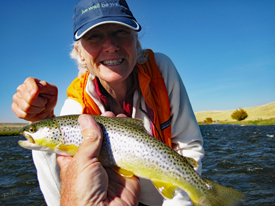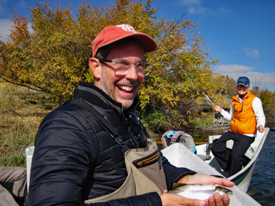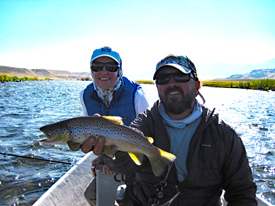 Nymphs: Delektable Lil' Spanker Pheasant Tail, Purple, Blue, Black, Gold #16-#20; Geppert's Green Machine #18; RS2 Olive #16-#20; Tungsten Split-Case BWO #20; BH Mo River Black #18-#20; Delektable Curved Hook Ranch BWO #16-#18; Zebra Midge Red, Black #18-#20; Delektable Orange Juice Caddis Emerger, Lime Juice #14-#16; Delektable Worm Red, Wine #16; Pat's Rubberlegs Black, Brown/Black, Olive/Brown #8-#10; Delektable Mega Prince Standard Flashback #10; Delektable Hurless Flashback Gray, Olive #10; JH Napoleon Light Olive #18; GB Bubbleback Emerger PT #16-#18; Sawyer Pheasant Tail Copper, Red #16-#18; Juju Flashback Baetis #18-#20; and Formerly Known As Prince #18-#14.
Dries: Delektable Flying Ant Minimal Cinnamon #16-#18; Half Drowned Moth, Hopper, Caddis #16; Hi-Vis Parachute BWO #20; Delektable BWO Squeezer #18-#20; October Caddis PMX Orange #12; Delektable Chubbyness Rootbeer, Cinnamon #16; Parachute Adams #18-#20; Fat Frank Olive, Tan #12-#14; Delektable Twisted Baby Orange/Brown, Tan/Brown #12-#16; Delektable Lil' Chubby UV Pink, Royal #16-#18; Parachute Adams #18-#20; B's Emerging Peacock Caddis #16; BWO Para-Sipper #20-#22; and McKnight Tan Thunder Hopper #12-#14.
Streamers: Lady Gaga White, Rainbow #2; Murphey's Miracle Mile Olive Peanut #4; BH Flashabugger Black #8; Yo' Dali Llama Black/Olive, Olive/White, Tan/Natural #6; Trevor's Sculpin Olive #4; Kyle's Egg Head Olive/Yellow, Natural #6; Slump Buster Squirrel/Copper #6; Zonker Natural/Tan, Natural, Natural/Copper, Dark Olive #6-#8; Delektable Single/Double/SS Olive/White, Black/Olive, Purple/Black, Black, White, Yellow, Badger #6; and Silvey's Sculpin Leech Olive, Tan #4.