After getting 4-6 inches of snow two nights ago and yesterday morning, Gunnar took Chris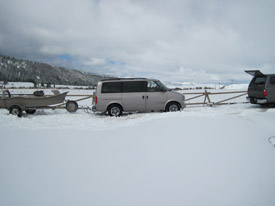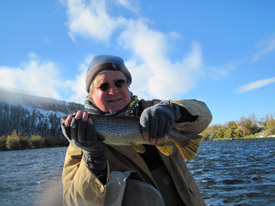 and Bill out for an adventure. Bill is Chris' Father at 82 years old and in great shape: the pair are from Florida and didn't know what was in store for them! Hello to Winter and snow which had not been seen by them for many years, being from Florida. Everyone bundled up to stay warm. After getting stuck in one of the boat launches while just inspecting the scene, then getting pulled out by Rod and Pam King, our friends and owners of the Bozeman Angler (Thank you Rod!!) and just about freezing, they decided they would be troopers and still go brave the cold cold morning. It actually ended up a really nice day in the middle of the afternoon. With Gunnar being the Stellar guide that he is, they were into fish soon after the snow shovels!
On day two, Jim had better snow conditions and a tad warmer weather to help Bill and Chris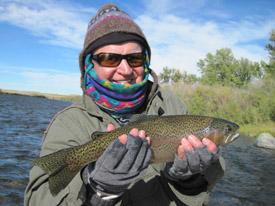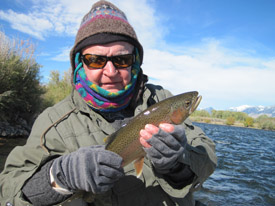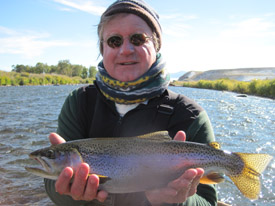 get into some fish. On both days, it was either the double nymph rig or streamers and nymphs including the Sculpzilla in Black, Copper Zonker, The Mini-Loop Sculpin, and a variety of nymphs using Delektable Lil' Spankers in PT and Silver and similar patterns with soft hackle or purple worked. Both days proved to be quite the adventure for father and son and the guides.
DanG and Nancy