Today was a rare and special day for Dan and Nancy. Everyone knows we put in the hours and work alot during the summer. It is a rare day for us to take time off, even more rare to take time together, and extremely rare to take time off fishing together with someone else rowing for the entire day. Yeah! Somehow it just all clicked that we were meant to go fishing. I was going to float with Grandpa but he chickened out because it wasn't warm enough outside so I invited Dan to join me with Jim Morrison as our guide. Dan fished all day and did not row. We really had fun. The first two hours were slower. We were using streamers with small nymphs behind them. It was pretty cool out first thing then it warmed up. As it got warmer the bite turned on. We started getting some pretty good action on both the streamers and nymphs. When I added the sinking leader to my rig, it made a difference and really improved the results.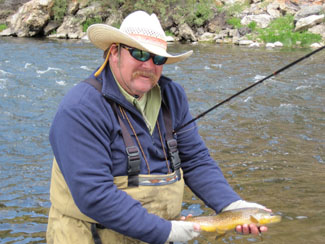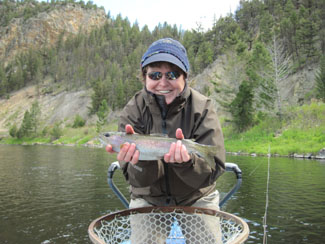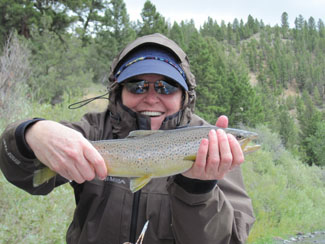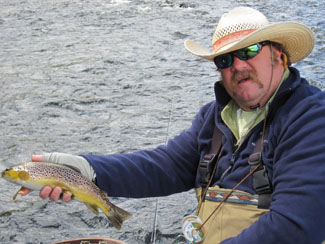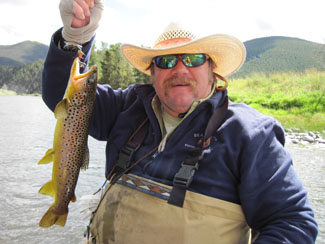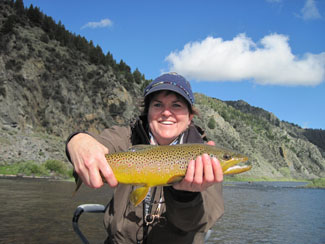 After lunch I caught a number of nice trout and despite the crazy weather which included big gusts and occasional light moisture, I wanted to try some dries. Roger shared a big goofy bug I put on the top and trailed it with a smaller fly behind. We got some action but after switching to either a Split Wing or Parachute Adams or a Delektable Royal or Purple Teaser as the trailer, we got more action. We caught and landed plenty and missed plenty. The trout colors were vivid and quite memorable. Jim did a great job of taking care of us. Thanks Jim.
We are now refreshed for more Beartooth fun. See you in the shop!

Nancy