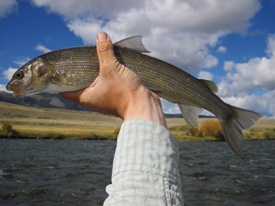 To be clear… this year has been nuts!! In a great way, its been the craziest season we've seen in a while! The dry fly bite has been out of this world, the big bugs bites were on another level of eats this year. The stoneflies are huge and healthy in this river, and that makes for great sport with the trout. It always fun to see the big dry eat on the big bug.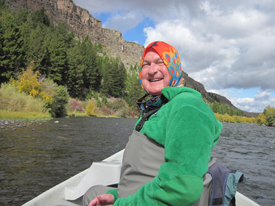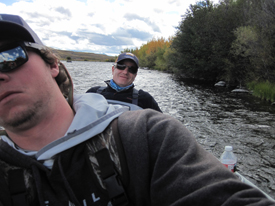 The hopper season has been spectacular! This was the best hopper season any of us have ever seen. They were just everywhere. There was a mind bending hopper presence here in the valley. If you didn't get in on all the hopper action, then you still may have a chance. They are still out there trying to hang on. Legend has it, they will be here until the second hard freeze. If you throw it, they will still hit it here and there and you might even be able to tease a piggie up to the top yet.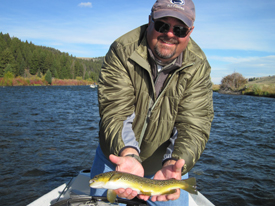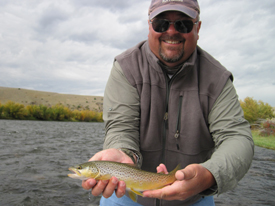 The snow has been falling in the mountains here in the Madison Valley area. It is archery season here and there are arrows flying, so be careful as you are wading around in the woodsier parts that you are aware that hunters may be present around you (it has happened to me already). Share the outdoors. The leaves will be turning bright yellow and orange soon and the colors on the trout will be changing with the season. In just a minute or two glorious colors will be seen. We have the privilege of living in one of the most beautiful places on earth and there are trout here. The fact that trout don't really live in ugly places helps too.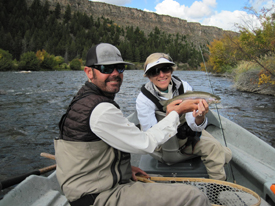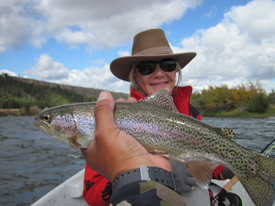 The snow falling would indicate that fall is here, but we may have more good weather for us in store in the next few weeks, so hang on! The immediate weather report looks a little dreary, but that could also mean a good bite, so hang on! The bite has been a tiny bit squirrely, so like I said earlier last week, you have to have the bad days to balance out the other days or else would the good days really be THAT good? There were some days this week that were terrific on Hoppers, October Caddis, and Yes, Ants in the Purple variety. And then the other days were an interesting mix/experiment in what the bite would be.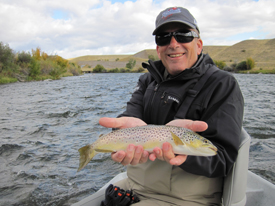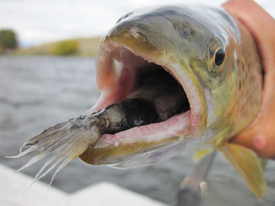 As far as the bug report goes, Here's a little list of the bugs we are using:
Dries:
Hoppers No. 10-12 in the colors Peach , Tan and Pink
PMX Orange No. 14
Bloom's Stealth Ant Purple No. 16
Delektable Chubbiness Olive/Brown No. 14
Half Down No. 14
Purple Haze No. 16 and 18
Carlson's Purple Haze No. 10
Royal Cripple No. 16
Delektable Twisted Sister Purple No. 14
Nymphs:
Delektable Prince Brandon No. 14-18
Batman No. 16
Delektable Sure Strike Purple No. 16 and 18
Psycho Prince Purple No. 16 and 18
Delektable Mega Prince No. 6-8
Delektable Lil' Spankers (Purple, PT and Silver) No. 16
Nymphicator No. 16 and 18
Streamers:
Sculpzilla Olive/Tan No. 8
Trevor Olive No. 6
Copper and Pearl Zonkers No. 6
Bow River Bugger No. 6
Delektable Double Screamer Olive/Black/Silver
" " " White
" " " Olive/Black/Gold