We were greeted with cool to downright chilly morning temperatures this week here in the Madison Valley. High winds in the early part of the week turned to some absolutely beautiful calm days in the latter half. The future forecast looks good until next weekend when some cool and cloudier days will return.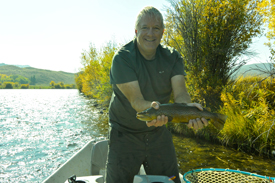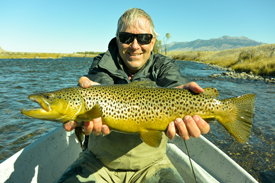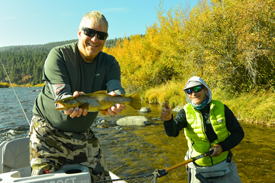 Very good to excellent Streamer activity continues in the early to mid mornings and again in the late afternoons and evenings. There are a good number of large Brown Trout running up into the system out of Ennis Lake. Some pigs are being landed from Varney down to the lake but that is the skinniest water. Just keep in mind if you're floating at these lower flows keep your eyes downstream as it gets pretty skinny in some areas. Especially for those of you in the hard boats. Olive, Black, Black/Olive, Yellow, White, Brown/Yellow Streamer colors are all effective. Adding a small attractor nymph trailing the Streamer has also been very effective.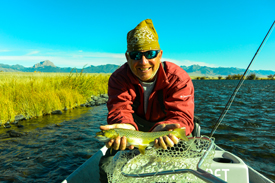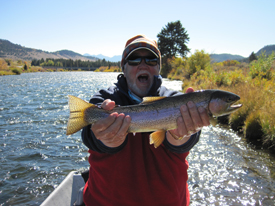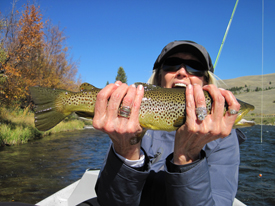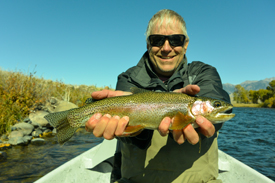 The Dry Fly bite has slowed over the last week. If you are a Dry or Die Angler you still have opportunities out there.There are BWO's hatching daily. With some cloud cover the hatches have been heavy especially on the Upper Wade section. Next weekend there is some scuzzy weather moving in that should be an excellent window for some strong BWO activity. Hoppers never really materialized this year and the action on those has slowed even more now with the colder nighttime temperatures. You can still find a good fish or two to come up and inspect a well placed ant, beetle, or smaller Chubby though. October Caddis and the Fall Sedge Caddis are out on the water as well.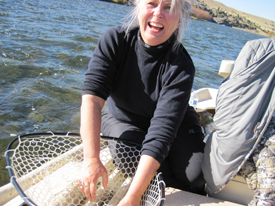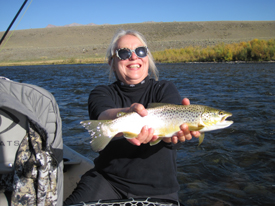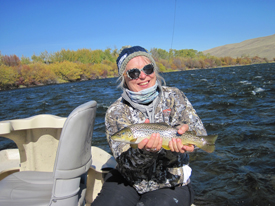 With the cooler Autumn temps the Nymph bite has returned to a much more consistent level. Smaller to Mid Size Stonefly Nymphs trailed with any of the Prince Variants, Bright Attractor Nymphs, or Perdigons is a good go to rig right now. We've been seeing some big fish come to the net nymphing as well over the last several days.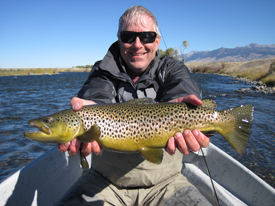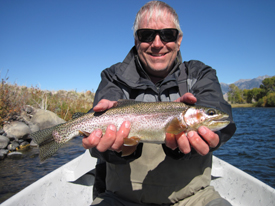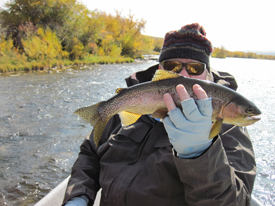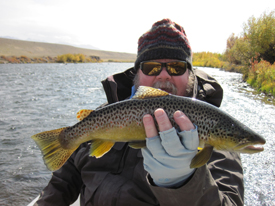 The crowds have thinned out for sure and there is plenty of water and the Rainbows and Browns of the Madison are getting on the feed ahead of the long winter ahead. With clear air quality again the views in the valley this time of year are simply stunning. Especially at Sunrise or near Sunset. The Alpenglow on the sides of the Gravelly and Madison Ranges are so beautiful this time of year. The snow will be flying before we know it so get out there and enjoy the last bit of nice weather remaining.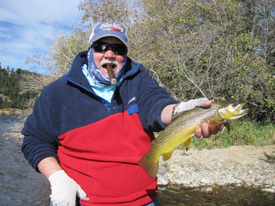 Dries: Delektable Flying Ant Red, Cinnamon #14-#16. Delektable Twisted Sister Orange/Brown #12 – #14. Delektable Twisted X Orange/Brown #12-#14. Delektable CDC Elk Hair Caddis Tan, Purple #14-#16. BWO Sparkle Dun #18-#20. Delektable Ranch BWO #18. Delektable BWO Teaser #18-#20. Parachute Adams #18. Carlson's Purple Craze #16-#18. Purple Haze #16-#20.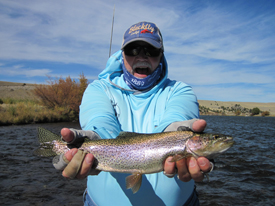 Nymphs: Delektable Mega Prince Standard and Flashback #8-#10. Pat's Rubberlegs Black, Olive/Black, Brown/Black, Brown #8-#12. Delektable Lil' Spanker Silver, Gold, Red, Blue, Purple, Pheasant Tail #14-#18. Delektable Jighead Tungsten Spanker Holo Red, Holo Silver, Holo Black #14-#18. Formerly Known as Prince #16-#18. Delektable Prince Brandon #14-#18. $3Dollar Dips Brown, Red, Crystal #16-#18. Splitback BWO #18-#20. Pheasant Tail Nymphs #16-#20. Copper Johns Red #14-#18. Shop Vac's #16-#18. Little Green Machine Green, Black, Pheasant Tail #16-#20.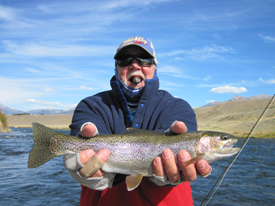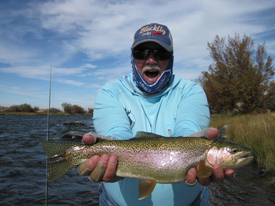 Streamers: Delektable Single and Double Screamers Black, Olive, White, Olive/Black, Brown/Yellow, Badger. Delektable SS Jointed Screamer Black, Olive, White, Olive/Black, Brown/Yellow, Chartreuse/White, Olive/Yellow. Zonkers Natural, Copper, Pearl #6-#8. Mini Loop Sculpin Natural and Olive #6. Sculpzilla Olive, Natural, Black #8. Galloup's Dungeons Regular or Mini Black, Olive, Cream. Galloup's Silk Kitty Olive, White.