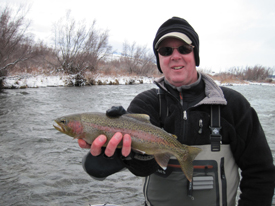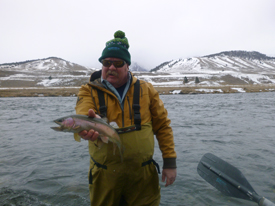 One of these days winter will end but until then remember to pack the warm gloves on those trips down to the river. The upper river is flowing at 1250 c.f.s. below Hebgen and she's up to 1310 c.f.s. by the time you get down to Kirby. Remember to keep an eye out for spawning reds when you're wading out there this time of year. Be mindful of the future generations by making sure you don't walk on or behind the spawning areas as they hold many, many rainbow trout eggs. All the boat ramps on the upper Madison are good to go, it's finally time to pull the covers off the boats and get to fishing after a big snow season.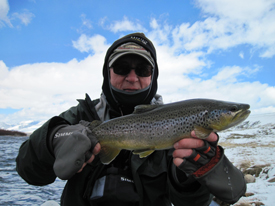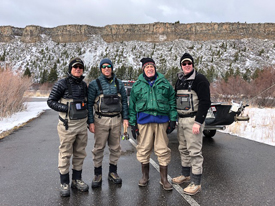 Nymph fishing has been killer the last couple of weeks and we're all hopeful it keeps up. Stonefly nymphs are the ticket in sizes #8 and #10. Delektable Mega Princes, Delektable Hurless in Gray or Olive, Delektable Mr. Rubberlegs in Goldenstone or Hare's ear as well as Pat's Rubberlegs in black or olive/brown have been doing the trick daily. Worms have been picking up fish from time to time and with the rainbows spawning egg patterns are also fishing well.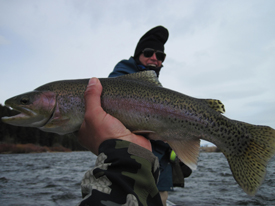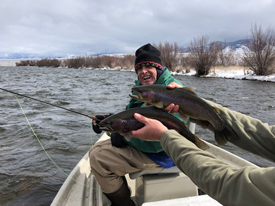 Dry fly fishing has been pretty good on the days with less wind. The fish are still eating midges pretty regularly and on the warmer days you'll even find some mayflies but not in big numbers yet. For the Baetis and BWO's it can be tough to beat the old Parachute Adams or Purple Craze in sizes #16 and #18. As far as the midges, not much has changed since the last report so make sure you've got a couple midge cluster imitations like a Griffith's Gnat and some single midge patterns for the earlier part of the cycle. I'd recommend the Sipper Midge.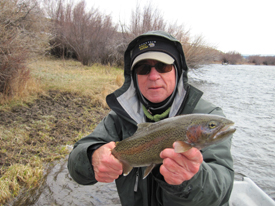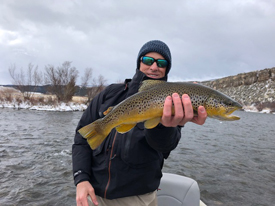 Streamer fishing is on the upswing and we only expect it to improve as water temps rise. You'll still want to use winter tactics for the most part, fishing small flies slowly. Mini loops, Delektable Single Screamers and Zonkers have been some of our favorites. Keep an eye out for more reports as we're very excited to be starting the season at well over historical average snowpack throughout the western half of the state for the first time in a few years!!