It's early morning and nice weather is in the forecast for Bill later today. The "W" is almost nonexistent. He gets out of his truck all bundled up head to toe in his newly purchased gear. The cold crisp fog is rising from the upper Madison River in what seems to be slow motion. He takes a look around and sees an eagle barely visible through the fog flying majestically, looking for an easy target to scoop up for breakfast. Bill is fully equipped and ready for action. He starts walking toward the river from his rig. He immediately spooks a brown right off the bank. He smiles. Bill has been waiting for this all year….the fall run. The leaves are turning yellow quickly and the valley is changing in color day by day. Bill is in his element. He is free, the air is clean and he is alone. This moment is all about him in his favorite Montana surroundings. His soul needs this……it craves it.        

  The best part about this story is that Bill IS actually here now. He is NOT daydreaming about monster brown trout while he butters his toast at home. He has built a getaway that is healthy for him away from work, and now he is here. He has set himself up for success not only mentally and therapeutically, but for the fishing too. He is fully prepared.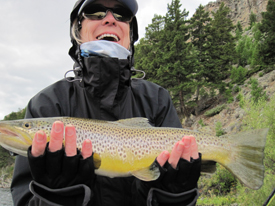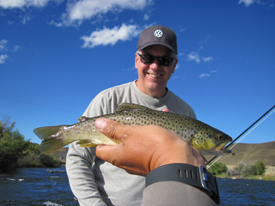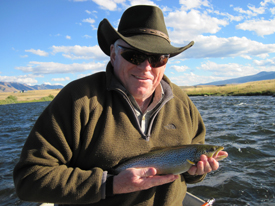 The cold weather snap here in Southwest Montana has given the trout a little indication that it is time. It is time to get serious about fattening up, and time to get serious about getting serious in a fishy relationship. It is spawning season soon and the bite is on!! I hope you all will take advantage of these ferocious browns with their vicious takes on the streamer!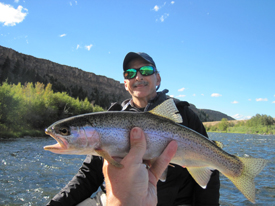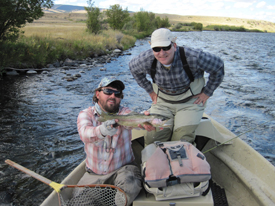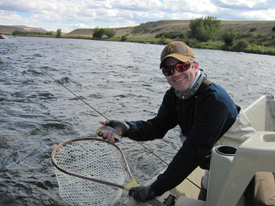 We are seeing some nice fish enter and exit the boat safely taken on single hooked streamers, articulated streamers and well, you get it. It's on!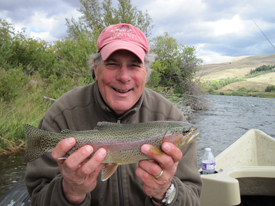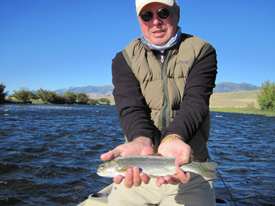 Well, it's not just streamers that are working. There is also still quite an extensive list of "normal" flies that will be working. Let's start with the stone flies that are moving around with the colder temps. Pats Rubber Legs in a size 8-12 are working just fine for those little guys. Colors that are strong ones will be brown, black, brown/olive and black/olive (for the Nocturnals still), black/brown and orange/tan. A red headed prince with a tungsten bead on a size 14-16 hook in combination with any of those stones would be good. Small princes, small pheasant tails and small serendipities (size 18-20 on curved hook) have been working lately. Baetis…start looking for 'em and start throwin 'em. A wire worm size 8. Delektable Lil' Spankers in silver, red and pheasant tail have been good. Lightning bugs silver, pearl and purple are working just fine. We have also had some good reports on the little red copper john size 20. That could be for the pseudo mayflies we have had lately, but trout just love the little red copper john….always. There is a 14-16 gray caddis that has been flying around and we have been using the Delektable Rose/Pink Twisted Sister dry size 16 for that lil' guy. One might want to try that one in the brown color too. It could be time for the Delektable Mega Prince and relatives.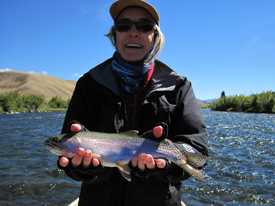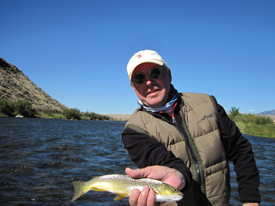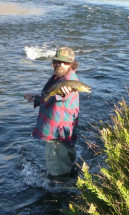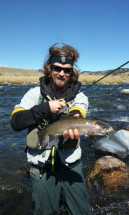 As for the weather and the bite during the day, it has been real good in the early morning, a little slower by mid-day, and then it has been picking up a little bit more later in the afternoon.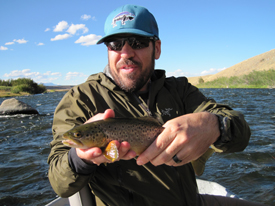 Back to streamer talk now. Early mornings have been borderline epic on the strip. As for colors, white is right. Olive articulated streamers have been reeeally good along with black here and there. There has been some good nipping going on without the full commitment, but have no fear, it will happen. Personally I would rather strip a streamer than dunk it under a bobber, but dunk'n stinger-hooked streamers with a nymph trailing has been a killer combo for numbers in the boat. They may look at the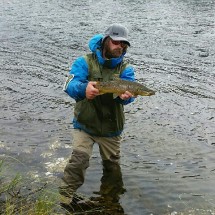 streamer and hopefully take it, but if not, they usually take the small nymph behind it. Anywho, please get out there and get some fishing time in for yourself with this epic weather. The bite is just simply better with this colder weather. You may have to bundle up a bit more but it usually well worth the effort. To each their own, but I prefer fishing in the snow and blizzard conditions with the way the trout react. Plus, there are a lot less people out there in "your spot" 🙂
Happy Fishing!!!  -DanG