Rain, Rain, Stay, Stay!! What a beautiful birth of Spring life we are seeing this week! The mid 50s-60 degree temperatures and daily rainfall have brought a complete rebirth to the Valley. Fur babies are roaming around the water ways with their protective mothers; it is best to be aware and keep your distance if and when you encounter these precious animals. The river has turned from an off-color brown to a deep green this week and is just perfect! The Madison at Kirby started this week at 1,070cfs and gradually dropped to 850cfs by the end of the week; at Cameron we saw the river at 1,800cfs at the beginning of the week, by Friday a drop to 1,200cfs and finishing with another rise at 1,700cfs by Sunday as the tributaries continue to rise and fall with the weather conditions. Fishing is always good, as for catching right now it is hit or miss . However, we have reports of tentative nibbling and missed hits. Streamers and larger nymphs have been the most productive, but we have seen some top action when the weather breaks between rain showers. The wade fish only section of the river has been the most productive with the clearer water and lower flows making it an easier wading experience. As always, we end with some great pictures, the proof is in the pudding!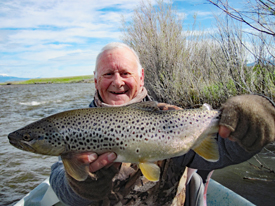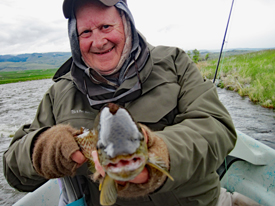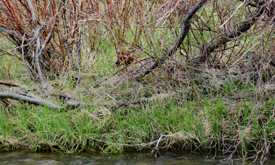 Nymphs: Delektable Hurless Olive Flashback #6-#10, Pat's Rubberlegs Black/Brown #4-#6, Delektable B.H. Black Stoner #6, Delektable Black Guide Stone #6, Delektable Prince Brandon #10-#12, Lil' Spanker Pheasant Tail #12-#14, Delektable Hammerhead GTBH Jighead Holo Green #14, Tungsten BH Jiggy Blow Torch #14-#16, BH Hot Orange Pheasant Tail #14-#16, Delektable Lil' Spanker Silver #16-#18, Psycho Prince GB Caddis Green #14, Delektable Jig Hook Tungsten Spanker Halo Olive #16.
Dries: Purple Haze Parachute #10-#16, Parachute Adams #10-#18, Delektable Mega2Tone Chubbyness Royal #10-#12.
Streamers: Dali Llama Olive/White #6, Zonker Natural Size #6, Delektable Double SS Screamers Olive & White/Black & Olive/Black/Olive & Yellow #8, Delektable Double/Single Screamers Black/Olive/Yellow #6-#8, SculpZilla Black #8, Sex Dungeon White/Black & Olive/Black #4.