Good day to all of you checking up on us out here!!! We are very excited as the season continues to roll into full tilt here in the next couple of weeks. The fishing has been very,  very good as of late!
The big nymphs are still on the food tray along with a slight caddis hatch turning into a massive one later this week…I am sure! This brings me to last night and the mother's day caddis. They are about to explode in the next couple of days here. Some adults are out and about now, but they have only been here and there over the past week. Case patterns and caddis emergers have been the ticket on the small game.
Make sure you have some peacock in those caddis patterns as they are olive and almost black in color. Size 14 and 16s are working but, don't be afraid to go even a little bigger with a large 12. In other worlds, the nymphing is stellar and still remains about 80% of a trout's food menu, don't forget. Double rig on the stonefly is an awesome catcher still. Stonefly/ caddis nymph combo is most likely to succeed until the weather gets a little warmer (today). The fish will then be keying in on the dry once the temperatures (water and air) are right.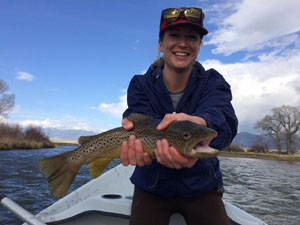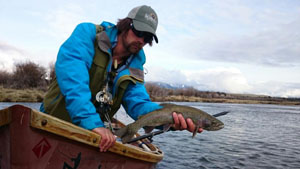 We have received some heavy wet snow in the mountains that is greatly appreciated adding to not only to the snow-pack levels, but to the water table as well. With this low year of snowfall we are very grateful for any more before the summer kicks in!!! The water on the Madison is a tiny bit colored. It is perfect. Happy Fishing!!! -DanG