Early spring conditions means bring ALL your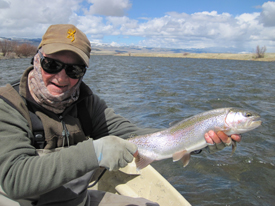 gear out on any given day because you never know what momma nature will throw at ya this time of year. Despite the weather, our guides have been getting some great fish. Streamer fishing has been picking up big time which has been long awaited.. The olive/black Delektable single screamer has been the fly to beat and Sheila's sculpins are working well too.
Nymph fishing has been a stonefly and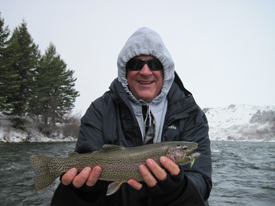 worm game and they're WORKING. Delektable Megaprince's have been on fire on a size #8 hook in either standard or olive with or without the flashback. Delektable Hurless Stone's have had a tough time staying out of mouths as well especially in olive sizes #8 or #10. Pats Rubberlegs have been producing some fish as well, specifically in the olive/brown color combo on a #8 hook. Last but not least the pink flossy worm has been bring'n em in.
Dry fly fishing has still been mostly a midge
game but if you're out in the evening you can certainly come across a bucket full of blue wing slerpers. So come prepared with some Griffiths Gnats in #18 and #20 along with Brook's Midge Sprouts in olive on a #18 hook. The BWO Split Wing Parachute has been one of our favorites as well.
As always, be sure to stop in the shop and load up on all these tasty bugs on your way to the fish!