Well Spring has sprung here on the Madison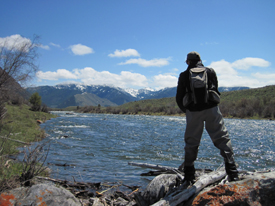 and we're very sorry we haven't got a report out to you in a while as we've had our hands full getting the season started and getting ready for our Project Healing Waters Guests. The good news is the fishing hasn't ceased to amaze. Very typical spring conditions means the fish are EATING after a long winter. What's on the menu? Sculpin, BWO's, Caddis and March browns. The streamer bite has picked up big time since our last report with Trevor's sculpin in olive or natural, The Delektable Double Screamer in olive/black or badger, Sculpzilla's and anything else that imitates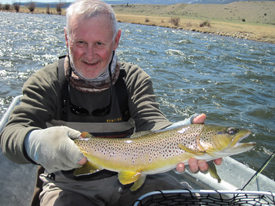 those mottled little trout snacks that swim around..
The water has been starting to come up and as of this writing the CFS is about 2,450 but don't let that scare you, with less than a foot of visibility out back (increasing as you go up river) we're experiencing some epic days on the water but it requires different techniques. You're going to want to tread carefully with lots of fish being tight to the banks they'll be easy to spook from careless wading.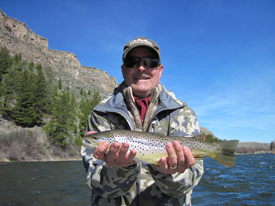 Nymphs are going to be producing the numbers as usual, Delektable Stoners in black or brown especially the Egghead ones in a size #8 hook, Delektable Lil' Spankers in sizes #14 or #16 of the Pheasant Tail variety, size#14 Lightning Bugs and of course the worms, bigger and redder the better. The color redhead is also good in Delektable Big Spankers that have tungsten beads.
On the top side we've been getting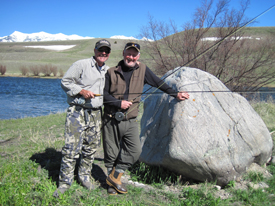 them on size #14 Adams flies, Delektable Halo's in peacock #16, Delektable CDC Elk Hair Caddis in a #16  and Pheasant Tail cripple's in #14. Evenings have been best for dry fly fishing so don't be afraid to stick around till the sun isn't!! This does require choosing special spots where you can tease them up to the fly and hopefully where you find a bucket with a bit of clarity.
As always call or stop by the shop for an up to the minute report and all the bugs you'll need to stick 'em!