The Fully Wild group was out again this week and though they had to keep dodging the rain to stay dry, the fish were still cooperative. Bug selection is going to be across the board and a little scarce these days as we start into the first week of August.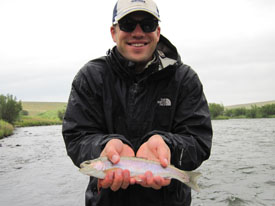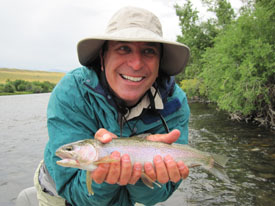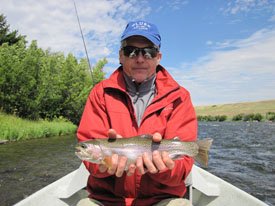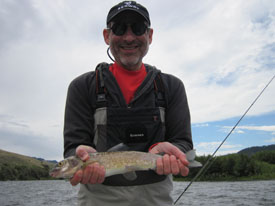 The boys threw streamers, nocturnal stones, spruce moth patterns and of course the fabled girdle bug. the Streamers that worked the best in the stormy weather today was the size 8 Copper Zonker. Some nice fish were on the streamer bite with no surprise. The nocturnal stone pattern that was working was a Golden Chubby in a size 12. A few good fish did come up and look it too, but were a little wary of the bug on top. The fish are really getting used to seeing the big bug and might need a little twitching incentive to get them to commit. Spruce moth patterns have been doing good too. The spuce moth pattern we have been doing good on is Dan's Delektable Twisted Baby in tan/brn size 14.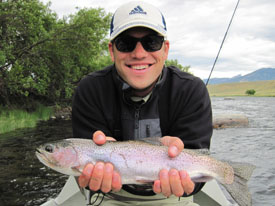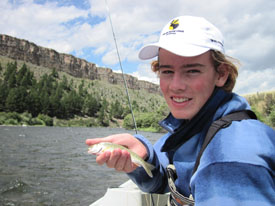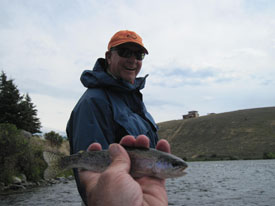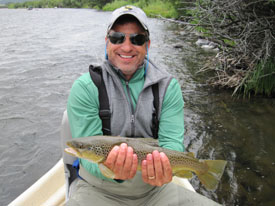 Also the Pat's Rubber Legs in the black/brown and brown/olive size 10 was a bug of choice as usual, imitating the sub-surface nocturnal stone. there was lots of rain around but they didnt get hit to bad and managed to steer pretty clear of the bulk of it. I hope you are out there enjoying our beautiful Madison River for yourself! Although the weather says the temps are going to climb, the water will keep falling from the sky whenever it wants, so bring your rain gear and be well prepared. Happy Fishing Everyone!!!
-DanG