Higher water levels, chilly mornings and cool, pleasant days; it's a great
time to be out on the water. Add wonderful clients to the mix and it's just
a joy to be a guide.

Such was the case Sunday with Mark and Mark, a transplant father and son from Montana and Idaho. Originally from east
Texas, we are/were virtual neighbors and spent the day discussing much of
our home states, and enjoyed lots of mutual ribbing over the aspects that
are the Texas/Louisiana rivalry. The day was non-stop conversation, joking
and laughing. A day on the water with new friends; it doesn't get much
better than that.
And, of course, there was the fishing. Which was great! … The fish were
hungry and eager, with the bite starting practically as soon as the oars
were in the water. The bites were strong, leaving no doubt to their intent,
and the fights were equally intense, with big runs and leaping fish. there
were very few "twinks," with quality fish coming one after another. The duo
had a blast!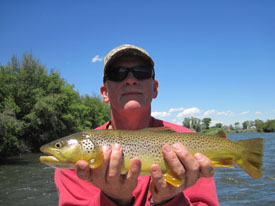 And the fly selection couldn't have been simpler. The fish were keying on
Nocturnal Stones, and the fish were caught on Girdle Bugs, from start to
finish … So grab your Girdles and go fishing!
This followed another great trip with Missy and Jeff from Pennsylvania. The day started with Missy running nymphs and Jeff throwing dries.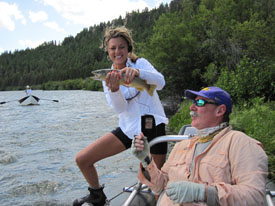 Jeff got a few fish to rise, but after watching Missy catch most of the fish on nymphs, he made the switch, then it was game on for both of them! Another fun day with wonderful clients.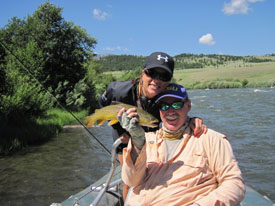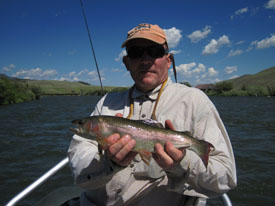 Marty