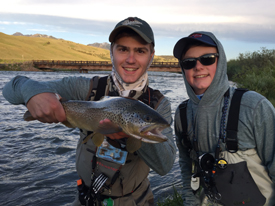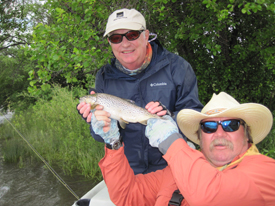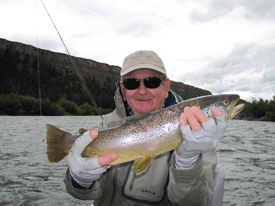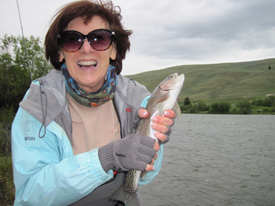 It's the middle of June and the river
is getting ready to jump into high gear. She is steadily and slowly regaining her glorious shine and clarity. As of today the visibility is in about a 3 foot range and getting better with each passing day. The flows are still a little high with below Hebgen Dam at 1610 CFS and at Kirby 2180. The river is slowly tapering down towards those July flows. With the water at the level it is right now it has been making for exceptionally great bank fishing with no need to jump into our crazy swift slippery river just yet. Also, be cautious still at the bridges with your boat and getting under safely.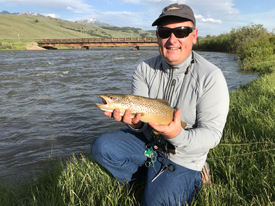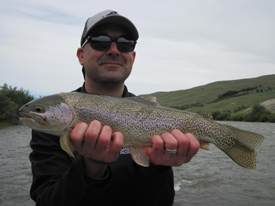 Attention! Attention! To all who love the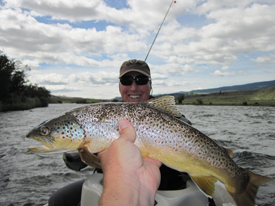 flies above the water and not below the water, the dry fly action is in second gear and really trying to pick up speed. As we are getting warmer weather the water flows are beginning to taper down and we will be getting into those hatching connditions. As a result the first to arrive is the Bomber Caddis between Palisades and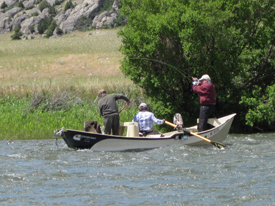 Storey Ditch. These Caddis are special with their bigger Caddis bug size #12-14 and you can cast them and see them more easily while nice varieties of trout will prey on them. The best ways to imitate these wonderful bugs is with Delektable Twisted X or Twisted Sister size #12 in Purple or Tan/Brown, Bloom's Parachute Caddis sizes #14-16 olive, Delektable CDC Elk Hair Caddis sizes #14-16 Holographic Olive, or try different colors, and the Delektable Twisted Baby sizes #14-16 in purple, tan/brown, or Brown. With these flies you can surely open the season of dry fly fishing right and enjoy a jumping trout from your fly and have a grin across your face and eventually a fish in the net.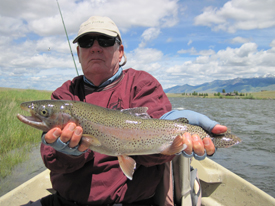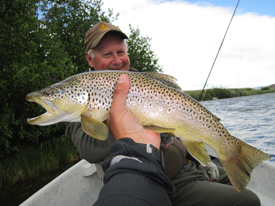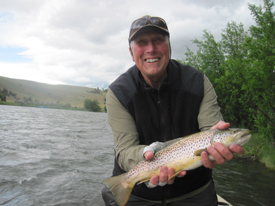 As for the down and dark under water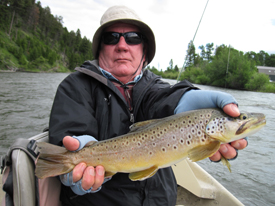 approach also known as the nymphing world it is holding a steady pace of ripping lips and catching fish. The flies I would use include the Delektable Sure Strike in sizes #14 and #12, Yellow Psycho Prince in a size #14 or #16, red threaded Prince Size #12, Delektable Hammerhead prince #12 or #14, and Delektable CDC baby size #14. The fish have been really hot for these flies.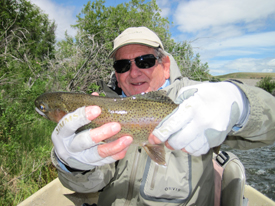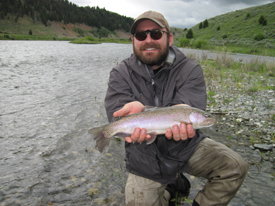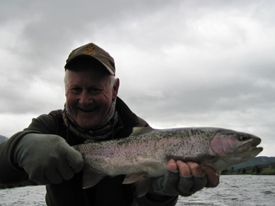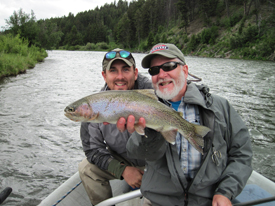 If you think it is going to get cold and you're holding off on that plane ticket for that last frost to pass. I'm Here to say it is time you must come as all the frost has past this week and the fish are getting very hungry and aggressive. Call us at the shop if you need fly advice and current conditions. Get out there and fish.