Welcome to June!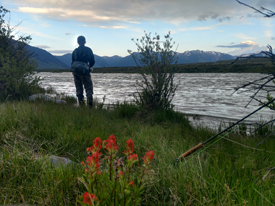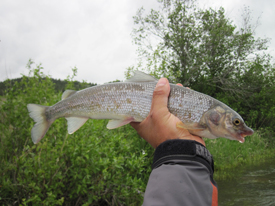 It's a very exciting time of year to be out there on the river with runoff on the way out and all our favorite hatches soon to arrive. Water is back up to just over 1700 c.f.s. below Hebgen and at Kirby Ranch it's down to about 2200 c.f.s. which of course is still a bit high and fast but don't let that scare you because the water is starting to clear up and fishing has been excellent. Just like our last report the biggest part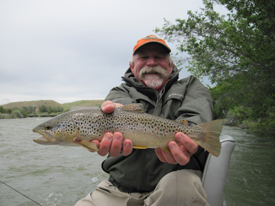 of catching right now is hitting the slow water! I repeat, FISH THE SLOW WATER. This means tight, tight, tight to the banks, along gravel bars and behind boulders or log jams. These are pretty much the only places to target right now and there have been some seriously healthy fish stacked up in those places.
We had a good group of boats go out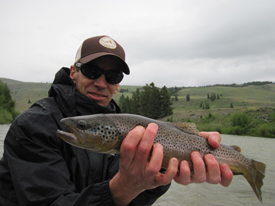 yesterday in the wind and rain and everyone returned with smiles on their faces thanks to our awesome guides! They caught fish on flies like Delektable Stoner's, Megaprince's and Pat's Rubberlegs in bigger sizes (#6 and #4). Trailing things like Delektable Lil' Spankers, Psycho Princes and a variety of worms.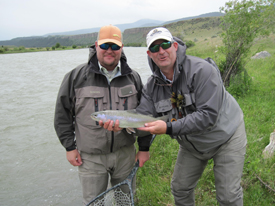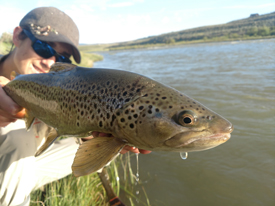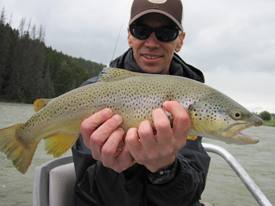 Brown trout in the upper river are viciously streamer hungry. If you're interested in that kind of
thing you'll definitely want to have a couple Delektable Double Screamers in olive/black and also white. Galloup's Boogie Man in gray has been tough to beat as well. Strip those things down the banks and you should be happy with the results.
Dry fly fishing has been hit or miss lately with the fluctuating weather but on a warmer day with some clouds you can expect to see fish eating baetis and caddis. Adams flies and tan Delektable C.D.C. Elk Hair Caddis are the dries to have as of late. Thicker hatches are very close so come by the shop and get all the gear you need for summer fishing!