What a change a few days can bring, yet alone the difference between last year and this year! Last year we were just starting Salmonflies this week and this year we are experiencing the highest flows recorded in the past 75 years. We at Beartooth Flyfishing are sending love and prayers to the areas in the state; Red Lodge, Gardiner, Livingston and numerous other towns and families, that have experienced severe flooding and hardship. We have been fortunate here that flooding has been minimal. Ruby Creek Campground and Fishing Access and Ennis Town Access have been closed due to flooding but hoping to open within the next week or two when runoff subsides. We are so very thankful for our customers and clients for working with us as we are trying to work with the current conditions of the river, which is a day to day planning adventure. At the beginning of this week the dam at Hebgen was full and NorthWestern Energy increased flows steadily throughout the week. At Kirby we saw the flows at 3,000cfs with a steady increase to the 18th to 3,900cfs and a drop down to 3,100 by the 20th. At Cameron the flows started this week at 5,150cfs jumped to 6,090cfs by the 18th and dropped back down to 4,500cfs by the 20th. With these types of flows and additionally trees and debris carried with it we have advised people to not float between Lyons and Palisades where the two lower bridges, Wolf Creek and Sun West Bridge, reside. We have had reports that Wolf Creek Bridge has a log across the middle of the bridge.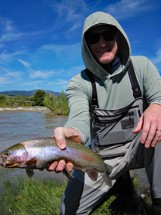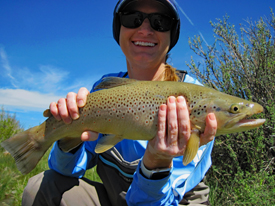 We have had trips going to the Upper Wade Fish section and doing quite well, also wade fishing has been the most productive. Due to the high and fast flows the fish are being pushed into the banks and any side channel that has calm water making targeting and fishing primarily from the bank (practice caution if wading in the water, however it isn't necessary as the fish will be right in front of you) and with the dirtier water the fish can't see you! So try fishing more from the bank. Nymphing, Worms, Eggs and Streamers have been the productive means of fishing and from the pictures below you can see they are biting! We at Beartooth Flyfishing are excited with the bigger flows for the long haul as we have been in a dry spell the past year and this big freestone river was in a need for water to help it through and get cleaner. For the future we are even more hopeful that the larger flows and cooler water will continue and the fish gods will grant us an endless dry fly Summer! The next two weeks we will see conditions changing, almost daily, please call us at Beartooth Flyfishing, 406-682-7525, for updates and any questions you may have! Also, starting June 24th our hours will be 7AM to 7PM Everyday!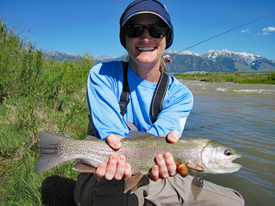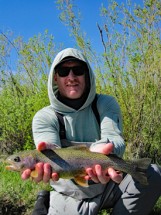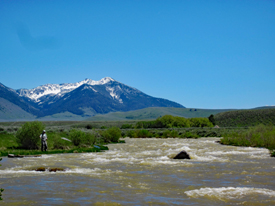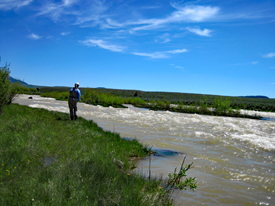 Nymphs: Delektable Guide Stone Blk #10-#14, Delektable BH Black Stoner #6-#4, Pat's Rubberlegs Black #4-#8, Delektable Guide Stone Black #4-#8, Delektable Mega Prince Standard #10-#16, Tungsten BH Jiggy Blow Torch #16-#14, BH Hot Orange Pheasant Tail #18-#14, BH Delektable Prince Brandon #12-#10, Delektable Lil' Spanker Pheasant Tail #10-#14, Hot Bead Worm Red #12, Wire Worm Red #8, Delektable Worm Red or Wine #8-#12.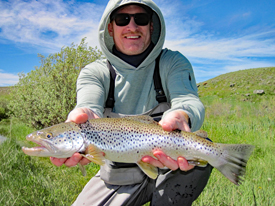 Streamers: Delektable Screamer Double/Stainless Steel Jointed/Single Olive/Black, Olive/Yellow, Yellow #6, Delektable Christmas Tree Black or Original #6, Eric's Jealousy Articulated Black #4, Zonker Black #6, Sparkle Minnow Black Fish Skull #4, Willy's Fruit Roll Up Black #10.