The pattern for this week is "Fluctuating River Color" with conditions persisting to change. What we have noticed is water temperatures are cooler than average and flows have been going up a bit. Water is still green and dirty green out back with dirtier water closer to Ennis. There is still a seam in the river but the majority dirty green. Overall, fishing continues to be good with fly patterns and new hatches coming although most people fishing are working for their fish. Flies that worked this week included; Power Worms, Delektable Lil' Spankers Pheasant Tail, Tungsten Redemption BWO's, Green Caddis Emergers of various types with some brighter green colors of choice, Caddis of various types, and Phsyco Princes. With the salmon fly and golden stone hatch on the big hole right now the excitement begins to build.
To start off the week, Will drove up to Raynold's bridge where previous reports had been that the wade only section was fishing well. Sometimes a personal day out on the river is exactly what is needed.  The fish are bigger and the stories are always better with no witnesses. Fishing the buckets and side pools,  Delektable double screamers (Olive and Black), Midges, and Tungsten Copper John's #14 were all working. Fishing streamers slow and letting the fish catch up was still important with the water temperatures low. Overall, it's never a bad day when you're out on the river and a bonus when you're catching.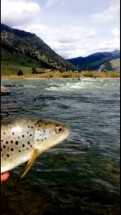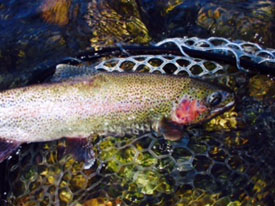 Emmett fished between Lyons Bridge and Windy Point. The fishing was good even though the weather was extremely warm and sunny. The river was slightly off color, especially on the left, west side of the river due to the West Fork. Most bites were happening in the clearer side of the river or near the seam; however the dirty side was productive too. Most bites were happening on small #16 nymphs. They were taking them as emergers with a gentle upward pull. Streamers were used too, but with no avail.
Saturday was a beautiful day for fishing with a group of boats out guiding from Lyons to Palisades.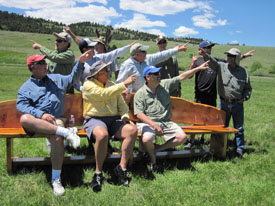 With no new big runoffs, CFS levels were consistent and water clarity green/dirty green; dirty water on the left (West) from the West fork and clearer water on the right (East). As always fishing buckets and giving the fish time to catch up with water temperatures in the 40's was important.
Ian took Dave and Kevin, on a half day float from Lyons to Pal. The water clarity was good, clear east and dirty west. The flies of choice for the day were power worm's #8/#10 and small baetis nymphs.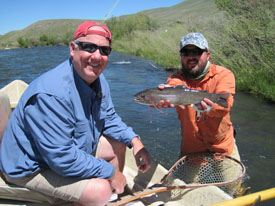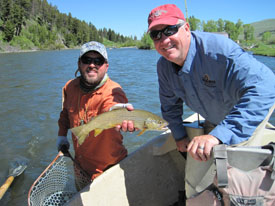 John kept with similar trend with Norbert and Omar, having success on wine colored worms as well as small red wire worms. To compliment that, Tungsten Redemption BWO #16/#18 and green Caddis Emergers were catching. So, something of color with the smaller nymph trailer seemed to work.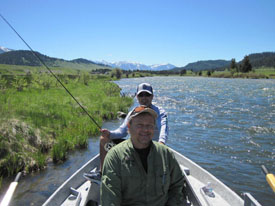 Brandon, with Mark and Rob, had most of their luck throughout the day on a Psycho Prince GB Caddis Green #14.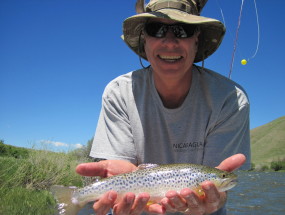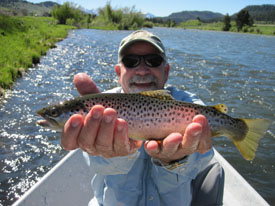 Joe on the other hand, with Gary and Harry, used Delektable Lil' Spankers Pheasant Tail #18 and Delektable Lil' Spanker olive green and Pat's Rubberlegs in Black like the Stone Flies underneath you see in the boat.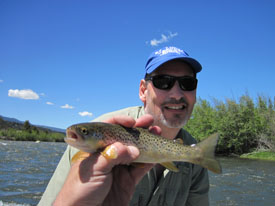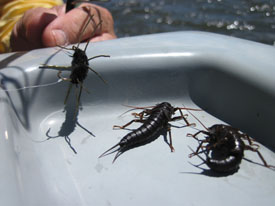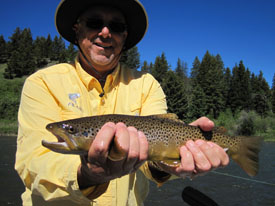 Overall all guides had action throughout the day and a variety of different fly patterns were used, all with varying success. A day spent floating with friends and having a laugh are great memories that are never forgotten. Warmer weather is ahead so wear your sunscreen and dip in the river to cool off.
Keep Throwing Darts! Will