This week called for a change of scenery as Dan, Marty, Will and Emmett headed up to the Big Hole to fish the Salmon Fly hatch and Golden Stones. Fishing on the Big Hole the past two weeks has been great. Clarity and river flow have been ideal for the hatch and those fishing have had big trout to show for it.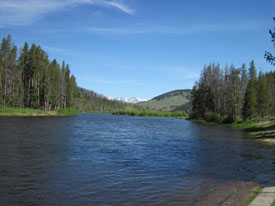 Will and local guide Nick Argyrakis with his sister Lia floated the 11-mile drift from East bank to Jerry Creek. It was Will's 21st birthday so a celebratory drink or two was in order to start of the day. Weather conditions were just about perfect. Since the salmon fly hatch was on, it only made sense to start with a Delektable Mega2Tone Chubbyness UVSalmon Fly #8 with a Goldenstone Tungsten Bead #8 following. It was important to find the willows and fish your dry right under and beside the grassy banks. Other recommended flies that worked that day were; Delektable Secret Stone Royal size #8, Delektable Chubbyness Little Yellow Stone size #16, Delektable Hammerhead GTBH Pheasantail #16 and Delektable Hammerhead GTBH Hare's Ear #16. Overall it's hard to beat cold beer on the river, great conditions and fish in the boat.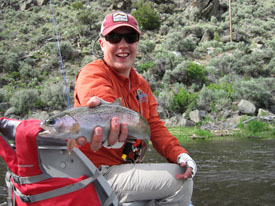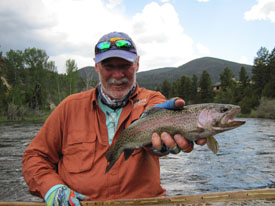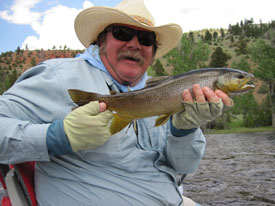 Dan, Marty, and Emmett got away on the same day to the Big Hole to fish the big dries. They did a double float from East Bank down to Divide. Everything was hatching, but there was only an occasional rise for a natural dry. Remember you can cast blindly with a dry, and get a rise by teasing the fish with a fly. There were some, but not too many big bugs out on the upper part of the float. We did not see any in the canyon. The fish were mostly eating the Delektable Secret Stone, and the Mega 2Tone Chubbyness. It took time and effort to get the fish to bite, but it was totally possible to do.  Some of the group were twitching their flies, while others were just dead-drifting them. Most of the fish were biting in the slow water near the banks, and in the buckets. They caught many different species of fish including Rainbows, Whitefish, Cutthroats, Brown Trout, and Brookies.
Emmett & Will