We at Beartooth Flyfishing hope everyone had a happy and safe Easter weekend. We have had a few boats out over the last few days. The Madison trout are happy and hungry and looking forward to some warmer weather in the short future as much as we are. The river is fishing as well as can be expected with the water temperatures still cold.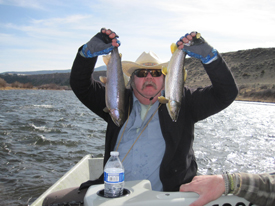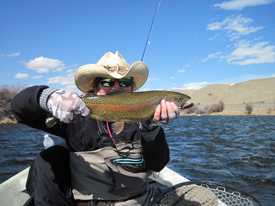 Nymphing is the most consistent method for a solid day of fishing throughout most of the river. Good success has been had with Delektable Mega Princes, Hurless Stones, and our new Delektable Balanced Stones, in sizes #8 – #10. Lil' Spankers in Pheasant Tail, Silver, Blue, and Red have also been fishing well. Smaller Shop Vac's in brown or olive #16 – #18. Baetis nymphs in #18 – #20 will also be effective.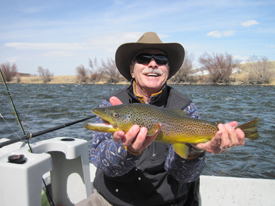 Most of the surface activity will be best on the upper reaches of the river. With calmer wind look for risers to be sipping midges and blue winged olives in the slicks behind rocks and riffles throughout the wade section. There are still solid amounts of snow between the lakes and around Raynold's and 3$. Some cardio post holing will be involved if you don't have x country skis or snowshoes.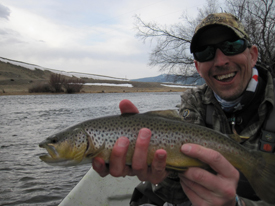 Streamers are fishing well once you're able to crack the code and find how they want it presented. Again with the water temps on the chilly side, you'll want to vary your strategies. Dead Drifting, or slower strips seem to be the most consistent right now. As weather and water warms over the next few weeks they should begin to chase better. Olive, Black, and Brown/Yellow combinations have been the most reliable colors. With White and Natural combos coming into play on the brighter days.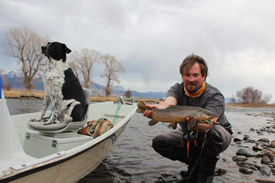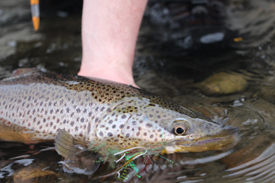 No need to get out super early or stay super late just yet, as the fish are most active between about 10am and 5pm. Unless of course you're looking for that 24" + toad lurking in the early morning or late evening light.
As always please call us here at Beartooth Flyfishing with any questions, or better yet stop in for some coffee and let us get you hooked up with all the flies and supplies you will need for your next day on the water.