It is springtime in the Rockies; my favorite time of the year. Yes, the Upper Madison is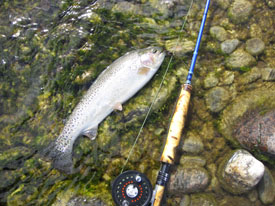 open year round again… Yahoo! We are glad to see less crowding in one section of the river this year compared to past years and to see local residents having an opportunity to fish their back yard. The bite was great today. I stopped counting at 10.
I checked out the boat ramps from Raynolds Pass to Storey Ditch and fished about 1 ½ hours and caught mostly Rainbows in the 14" to 19" range with 2 smaller Browns.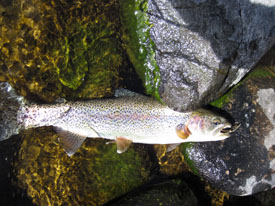 They loved the Delektable Size #8 Flashback Mega Prince, Flashback Gray Hurless, and Flashback Olive Mega Prince, my go to patterns this time of year. I fished mainly deeper buckets with two #8 Delektables with or without weight. Friends fished the next day and had similar results except more of the "W" factor occurred which does come around these days. Call to find out if it's gusty out here. They used similar bugs including good results with the Black Pat's Rubberlegs #10 along with the Delektable Flashback Olive Mega Prince #8. In addition, a variety of worms and eggs can be effective this time of year trailed behind a stonefly.
As far as the boat ramps that are open for launch, I'll start with Raynolds Pass: Still covered in snow, about two weeks out; Pine Butte: open and usable; Lyons Bridge: parking lot is still being used by snowmobilers but you can launch a boat or raft which you will need to slide down the snow; Windy Point: launch is perfect along with open parking lot; Palisades: snow drifts preventing ability to get to the parking lot by car or launch, maybe a week to 10 days out from usable unless you walk down;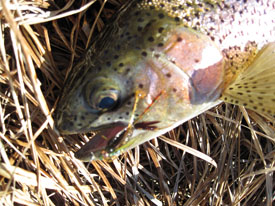 Ruby Creek, McAtee, Varney, Eight Mile Ford, Burnt Tree Hole, Ennis, Valley Garden, and Clutes Landing are all usable and launch able. There is still ice on Ennis Lake but you can go down around it.
Go Fishing and Enjoy!
Dan