The River clarity was about three feet today on Mother's Day… A nice green color.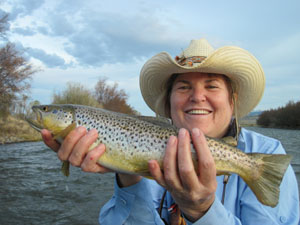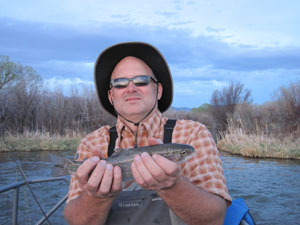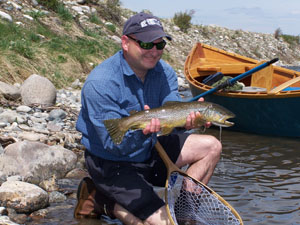 Early on, the fish were hungry then we had to work for our fish mid afternoon. Later we found some pods of rising fish in back eddies. Flies of choice were the Delektable™ Mega Prince and Hurless imitating the Skwalla Stones. Later on we were scoring well on dries. Caddis and March Browns were coming off and the fish were biting. We tried a Royal Chubby as the lead fly and trailed it with one of Dave Bloom's Hi Vis Caddis. it worked well.
Gregg Machel, our web technical consultant came to visit and help with our software upgrades and got to fish with us on Mother's day after we completed some big computer work. He caught a number of trout on the double dry combo.
Our friend Dan, of Rocky Mountain Embroidery, who does our Beartooth Flyfishing embroidery had a good day with a very nice catch shown in his photo with his special boat, he made himself. Nice fish Dan!
Nancy, Dan, Gregg, and RME Dan