Last night Craig, his buddy Geoff, and I went where the water meets the stones and the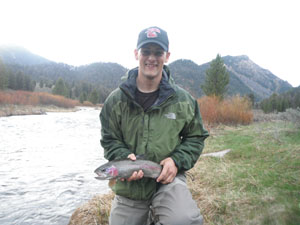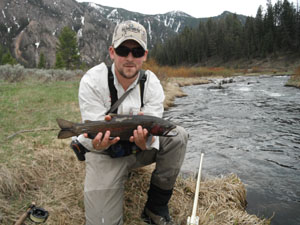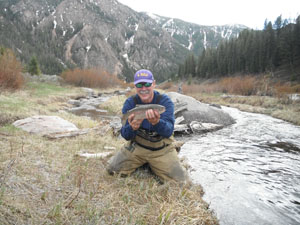 murk meets the mud and just put the smack down on them fishies :).
Geoff was on his maiden trip with a fly rod and with all the worms coming out of the banks, he hooked up right away with a pink San Juan Worm. His first fish was accompanied by a nice rainbow on my rod also; 🙂 catching! The water was muddy coming in from the creek near us, so we fished the seam.  They smacked all the stones in a size 8 that I threw at them, and after a while I quit changing because it was getting little chilly and any one was going to work just the sameJ If you need a little confidence booster, they are hungry! Just get it them on the bottom quick and get ready! Flies that caught were as follows; Delektable Mega Bead Headed Prince Flashback size 8, Delektable Mega Prince without the flashback, Delektable Olive Hurless Stone size 8 (both standard and flashback), Midnight Fire Delektable Bug Midnight Fire Black Legs size 4, and Delektable Grey Hurless Stone Flashback size 8. There was no real need to change it up, they were munchin' down 🙂
Happy Fishing!!!
Craig, Dan G, Dan, Marty, John, and Geoff