It sure feels like spring time these days with this past week spending most of its time in the 70's and the upcoming forecast showing mostly 40's and low 50's for daytime highs. The creeks are on the drop at the moment after a few days of kicking in some dirty water which should be good for the fishing.
It's been mostly nymphs and streamers that are doing the bulk of the catching. Delektable Double Screamers, Trevor's Sculpins, Sparkle Minnows and Buggers have seen their share of success out there.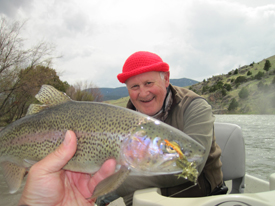 We've been fishing a good variety of nymphs as the conditions are changing almost every day. Delektable Lil' Spankers, Copper John's and Pheasant Tails are good for the March Browns in size #10 or #12. Smaller bugs like Delektable Ranch BWOs, Lightning Bugs, Serendipities and Princes are the Baetis/BWO lineup. Pat's Rubberlegs, Delektable Stonefly Candy and Worms are working for the other stuff.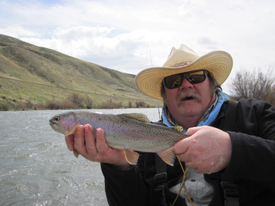 The drop in temp seems to be keeping the March Browns and Caddis under the surface once again. Shop Vacs and other Caddis Emergers will work. If you're dying to get some dry fly fishing in you can still find some fish eating Midges and Baetis here and there. Sipper Midges and small Adams should be all you need or try a Purple Haze.