Some of the Beartooth Family got to play hooky in search of Salmon Flies on the Henry's Fork from Warm River to Ashton ANNNNNNNDD… too early!!! We spotted a handful of Salmon Flies but just not enough in the air to get the fish to bite, we tried! The River is running at 1,320cfs a little off color but definitely lower flows on Tuesday. We experienced a cooler upstream wind for most of the day and varying overcast and sunny conditions. The Fish gave us a challenge regarding what they wanted to eat. As we were inclined to give dries the most attention; there were Midges, Blue-Winged Olives and Caddis Hatches, however the Fish wanted the Subsurface Nymphs. We did see a few rises throughout the day however our Flies were snubbed. We were still able to catch some good Fish, the photos tell the rest of the story.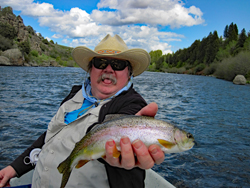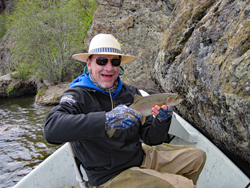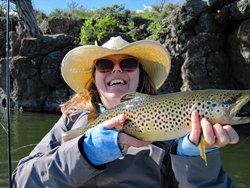 Nymphs: Pat's Rubberleg Brown #4, Delektable Stonefly UV Brown/Gold #6, Formerly Known As Prince #14 & #16, BH Delektable Prince Brandon #12 & #14, Delektable Lil' Spanker Silver #8, Delektable Lil' Spanker Pheasant Tail #14 & #16.
Streamers: Delektable Stainless Steel Jtd Screamer Olive/White, Black, Yellow #6, Delektable Christmas Tree Original, Olive, Black #6, Zonker Black #8, Bloom's Zig Hook Zirdle Olive/Orange #10.