Montana Spring has many surprises, mostly the weather! This week started with temperatures in the high 60s, snow by Friday melted later in the day, and a full-blown blizzard on Sunday. The river showed some signs of runoff with the West Fork kicking in mud with the higher temperatures early in the week however the cooler temps turned that off as quickly as it turned on and the river was running clear by Sunday. We saw fluctuations in the river this week starting out with flows at Kirby at 750cfs up to 980cfs by mid-week and coming back down to 715cfs. There was a similar pattern for Cameron as well 860cfs at the beginning of the week, 1,300cfs by midweek, and dropping to 900cfs by Sunday. The changing conditions have made some days challenging for catching but alternatively have made other days amazing!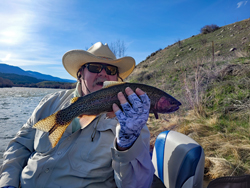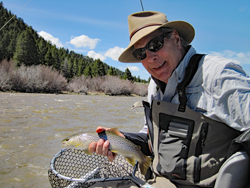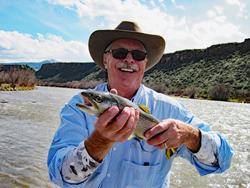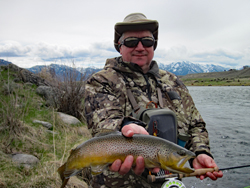 We were very excited and honored this week to host students and teachers from the Nueva School in Hillsborough, California on a guided float on the Upper Madison. The kids have been learning about fly-fishing and practicing casting at school; they put their preparation and knowledge to the test on Thursday. The "W" and temp factor added some special variables. As for their experience, the pictures tell the best story!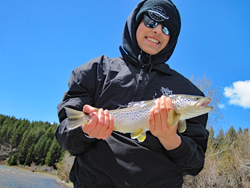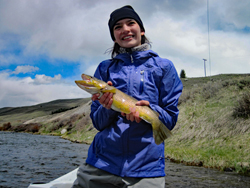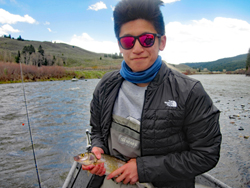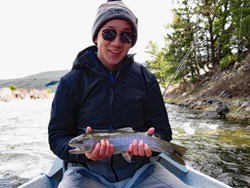 Nymphs: Delektable Mega Prince STD FB #6-#8, Delektable Hurless Stone Gray/Olive FB #6-#8, Delektable Lil' Spanker Silver/Pheasant Tail #12-#16, Delektable Prince Brandon #10-#16, BH Shop Vac #14-#16, BH Hot Orange Pheasant Tail #14-#18, Delektable Hammerhead GTBH Hare's Ear #14-#16, Delektable Stoner Egg Head Spark Plug Black/Brown #6, Delektable BH Black Stoner #6, Lightning Bug Silver #16-#18.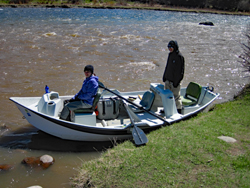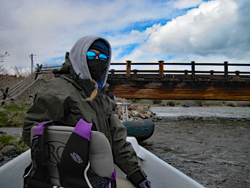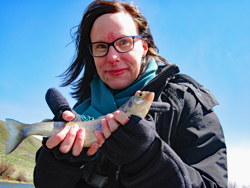 Dries: Delektable Mega 2Tone Chubbyness Royal #8-#10, Purple Haze Parachute #16-#18, Geppert Crystal Dip #16-#18, Parachute Adams #16-#18, BWO Para-Sipper #18-#20, Three Dollar Crystal Dip GB #16, Delektable BWO Teaser #18, Delektable Royal Squeezer #18-#20.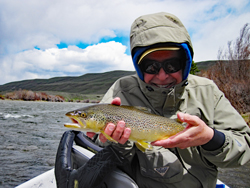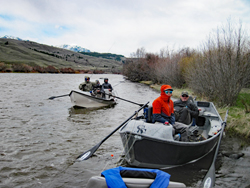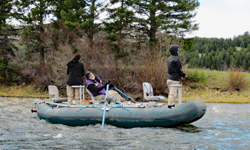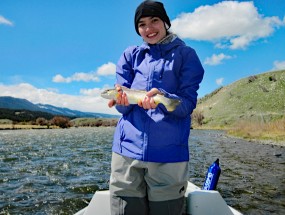 Streamers: Coffey's BH Sparkle Minnow Sculpin #6, Delektable Screamer Single/Double Olive/Yellow/Black/Spawning #6, Zonker Natural/Copper #6-#8, Sculpzilla Olive #8, Sparkle Minnow Fish Skull Black #8, Slump Buster Black #8.