The Midnight Rain Dances have worked here in the Valley! We are of this week at 100% snowpack and the valley is unveiling its spring beauty; green glory, trees budding and little wildflowers starting to peek out from the warming earth. We started the week off with temperatures in the 40's and finished off the week with temps in the low 70's! The River has been running steadily at 750-800 cfs at Kirby but fluctuating at 1,020 cfs earlier in the week, dropping down to 860 cfs mid-week and finishing at 1,050 cfs by the 15th. We saw a touch of runoff on the 14th and 15th with the warmer weather but that has stopped with the cold front moving in. The Caddis and Mayfly's have been seen and are working on the River, when the W factor isn't blowing them all away, which has has been calmer this week. The fish that have been caught this week have been healthy and hungry and seem as eager as we for warmer weather! As always, the pictures tell the best story. And way to go Patsy and Joan!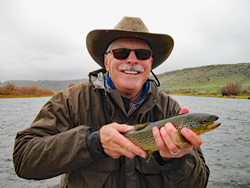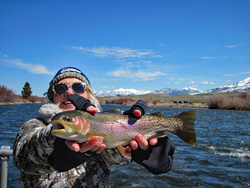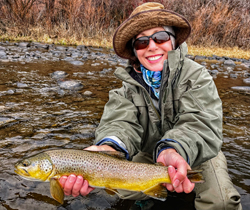 Nymphs: Pat's Black #6 & #10, Delektable Lil' Spanker Silver #16, RS2 Olive #18, Delektable BH Prince Brandon #16-#10, Delektable Mega Prince STD, FB & Olive #6-#10, Delektable Guide Stone Black #6-#10, Tungsten BH Jiggy Blow Torch #16-#18, Delektable TGBH Big Spanker Pheasant Tail #16-#18, Delektable Lil' Spanker Olive Green #18-#20, Geppert Crystal Dip Black, Brown #16-#18, ShopVacs #14-18.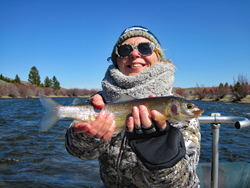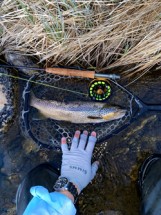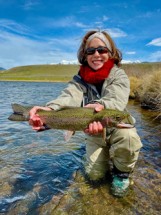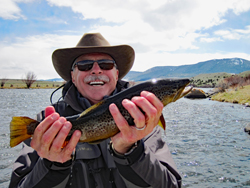 Dries: Delektable Twisted X Tan/Brown #16, Delektable Mega2Tone Chubbyness Royal #10, Delektable Lil' Chubby UV Caddis Green #16, Purple Haze Parachute #16, Griffith's Gnat #16-20, BWO Para Sipper #18-20, Delektable Teaser BWO #18-20.
Streamers: Delektable Screamer Single or Double SS Jointed Black, Olive, White, Spawning, Purple Black #6, Sculpzilla Olive or Black #4-8, Coffey's Sparkle Minnow #6, Zonker Natural #6, BH Dude Friendly Black/Natural #10.