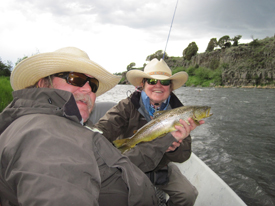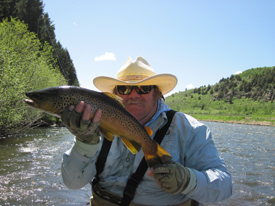 The day that Big Dan, Marty and Young Dan went to the Henry's Fork of the Snake River. It has been Salmonfly and Golden stone season down yonder way. We put in at Mesa Falls below the falls and floated a big double float to Ashton. The big bugs were everywhere at the boat ramp!!! Salmonflies covering the rocks and flying around, golden here and there, a sally or two and caddis of all sizes flying around. It was on. Bugs everywhere! It really felt like the middle of summer. The weather made it real nice as the bugs like the sun and heat. The fish were doing what they do and just crushing big bugs. It was on right away! We started out getting little fish on the big bug. Lots of little fish. (Dan sized fish). The bigger fish didn't start eating until around 11am or so. The best times were 11am-1pm. Switching out with the rowing and the level of ridiculous "mature man" conversation kept it exciting all day….as usual with those two.
A couple days later, Dan, Nancy and Marty did another float from the bridge down and had another great dry fly experience. They did have some weather role through but the conditions were still very good on the dry fly bite with lots of action for all.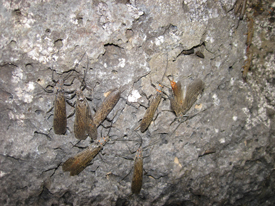 The flies that worked for us the best.
Dries:
Home tied big nasty Salmonflies
Dornan's Water Walker Peanut
Dornan's Water Walker Golden
Delektable Secret Salmon and Secret Goldenstone
Delektable Chubbyness Royal