River flow below Hebgen is up a bit from 880 c.f.s. to 930. Down at Kirby it's running at 1020 c.f.s. and 1140 at Varney Bridge. We've got a couple chilly days coming up but by the end of the week we'll be back into the low 60's which should do good things for our BWO and baetis fishing.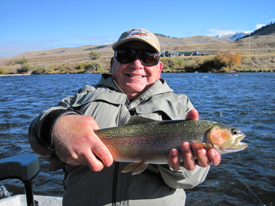 The subsurface bugs are catching fish. Smaller Rubberlegs in black or black/brown, worms, bigger zebra midges, Delektable Big Spankers, soft hackle Copper Johns and Hare's ears are all good bugs.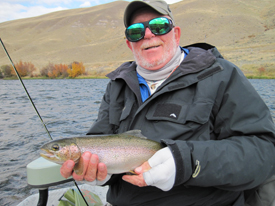 Streamers have been fishing well but size and colors have been a bit inconsistent so bring a good assortment and be willing to change up a few times till you find that magic fly. Delektable Screamers have been good as always especially in white, black/olive and badger. We've also had fish eat the Trevor's sculpin, McCune's, Sparkle Minnows and natural Zonkers.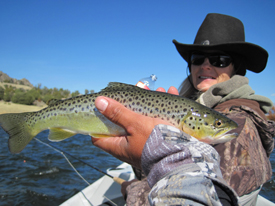 Dry flies are picking fish up as well; you'll want to target the slow slicks and behind the big rocks. Always remember that they don't eat the fly unless you fish it even if you aren't seeing heads poking up. Adams flies or Purple Crazes in sizes #16 or #18 should do the trick.