Dan Delekta, Bernie Sundell and Mike Mach went to the Missouri river this past week and it was good for them. They caught rainbows, browns, carp and walley. Long days on the river with your buddies in the Clacka is the best way to spend the fall out here. Articulated streamers in white, black and black and olive were the hottest flies of the day. Dan's Delektable Double Screamers in white were the best while black and back and olive were good towards the end of the day.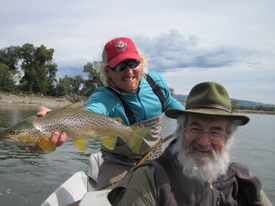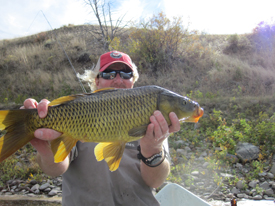 the Delektable Chubbyness and other dries were working in the film in the back-eddies, but you know how ya get when the fall comes around…force feeding of the streamer! The weather was perfect for banging walley too. They hit streamers hard and would keep you occupied if you were not catching trout. The limit for walley is 4 each, so they came back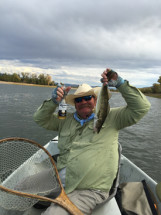 with some white meat that Captain Marty deep-fried in his special Cajun ways that tasted soooo good (just take my word for it). As for the carp, Mike caught that on a white Delektable Double Screamer (I know, wierd)
So, heres to fishing and drinkin with buddies on your day off!
Happy Fishing!!!  -DanG and Danny D