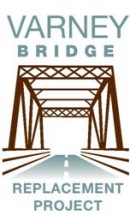 Important Update from the Montana Department of Transportation:
Construction crews will begin removing the west side of the structure of Varney Bridge on Tuesday, May 28th. Completion of the work is dependent upon good weather. Boats will not be able to pass through Varney Bridge on May 28th.
During the Bridge Removal:
Boats are restricted to a 6-foot maximum height clearance at the Varney Bridge.
Buoys in the river will direct boats through the construction zone.
The river will be temporarily closed through the construction zone on Tuesday, May 28 when the steel structure is removed.
The Fishing Access Site on the east side of the river will remain open for boats to exit the river.
Notification signage will be placed upstream and downstream of the bridge.
Please visit the construction camera here for up-to-date views of the Varney Bridge and information about closures and restrictions.