Ladies and fly fishing bums (gentlemen), we have water!! This is now. Realize it. Get out and fish, because next week we are going to see much warmer temperatures resulting in a bunch of hoot owl closures around the area. But as for the very moment, these days are the days that you all have been waiting for! This is the type of flyfishing therapy that you NEED to survive the rest of this summer! The big bug fishing continues!!! Hoppers and nocturnal stones are out and about keeping a well rounded good ole constant with the big dries!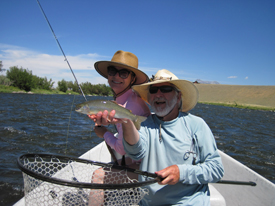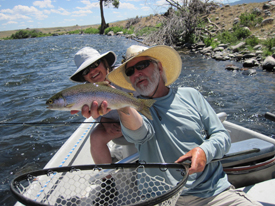 With the river keeping at a steady level, there have been large assortments of flies that have blown up and been good this week. The insect assortment we have in and around the river right now has been between the stones, hoppers, pmds, pmd rusty spinners, tricos, and a variety of caddis, so diligence with experimentation is definitely your best tactic to put fish in the net. If you're a dry fly person, then a good fly to experiment with would be the Fat Albert or the Delektable Slammer. Colors of choice lately are with Fat Albert: the Tan Foam and Yellow or Red Thread or with The Delektable Slammer: Yellow or Red. These have been very productive in sizes 12-14. Some other dry flies to experiment with are the Delektable Chubbynesses in UV Cinnamon, 2Tone Royal, and Rootbeer, all in sizes 14-16. Most of your Caddis, Mayfly, and PMD Dries are very effective, but if you prefer to fish with nymphs, try a Psycho Prince in sizes 14-16 below an Olive/Brown, or Brown/Black variegated Pat's Rubber Legs in sizes 10-12. That would be a worthwhile endeavor. Most small Mayfly or PMD Nymphs have been effective in sizes 14-18, therefore they would be worth trying too.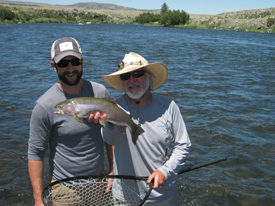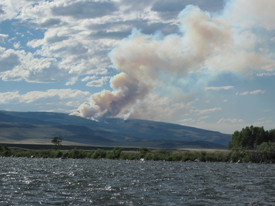 The fire in the picture is one we can see from the lodge that we believe is now under control but scared a bunch of friends who experienced a close call as they were almost evacuated. Thank you to our local fire fighters. Remember if you're having trouble out there and need any assistance at all or just want to talk to a few fishing nuts come by the shop for your local fix. Happy fishing to all!!
-DanG/Emmett/Will