Road trip!
Dan and I took clients to the Big Hole River on Monday, and had another incredible day of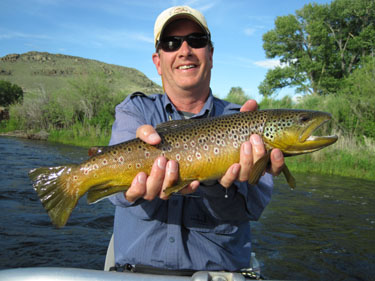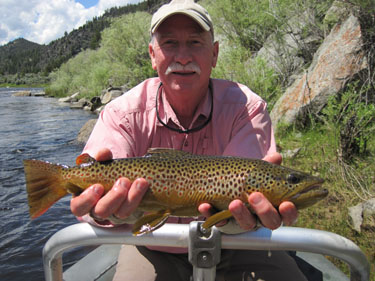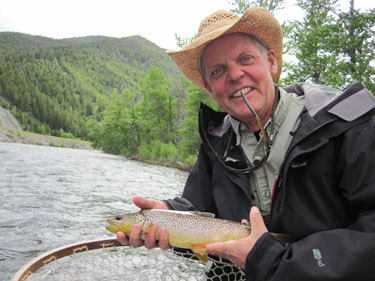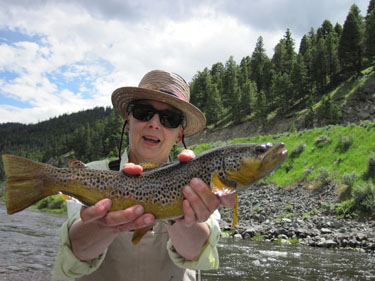 fishing.
We had very favorable weather; cool and clear in the morning, warm and clear most of the day with one potential rainmaker that passed without incident. It was a little breezy in the afternoon, but much less wind than our trip there a few days earlier.
The big bugs had passed; I saw no adult Salmon Flies and only four Golden Stones during our float. But in the post-Salmon/Golden hatch, the fish were still looking for the big meals. The Stone dry with a Stone nymph suspended under it was once again the winning combo, catching fish after fish throughout the float. There were multiple double hookups, including one on the same line, with one fish on the dry and one on the nymph; both fish jumped in the air at the same time on the hookset.
With a decent Caddis and Mayfly hatch coming off, a couple of the fisherman also threw Caddis dries and Caddis/Mayfly nymphs, which also drew strikes.
Another awesome day on the Big Hole!
The dries that produced best were Dan's Secret Salmon and Secret Golden, and Delektable CDC Elk Hair Caddis. Nymphs bringing the strikes were Delektable Sure Strike Peacock, Tungsten Special BH Epoxyback PMD, Delektable Mega Prince, and Pat's Rubberlegs Tan/Brown.
While the big-bug bite is tailing out on the Big Hole, it's just getting into high gear on the Madison. So get out and get in on the action!
Marty