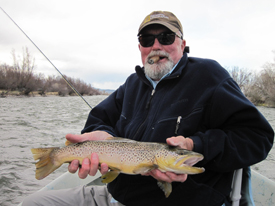 The last week on the Upper Madison has seen a bit of everything. We've had beautiful calm warm spring days, mixed in with cool stormy days and even some snow now and then. The fishing has been overall good yet sporadic at times. We are still holding on with pre runoff conditions at the moment but that could change in the next few days with warm temperatures forecast for the next four to five days. Currently the river is holding on with that nice green color. Plenty of visibility for dries, nymphs, or streamers until runoff begins in earnest.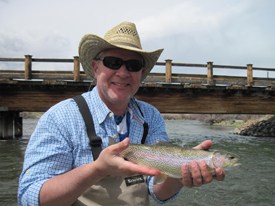 Nymphing has been the best way to get into some fish at most times. Delektable Mega Princes, Delektable Hurless Stones, and other Stonefly Nymph patterns in sizes #8 – #10. We are beginning to see the fish looking for the Golden Stone Nymphs as well now. It's a good idea to have some of those in your fly rotations now also. Delekatable Lil' Spankers in Silver and Blue #16 – #20, Delektable Big Spanker Warriors in #18, Shop Vacs #16 – #18, Delektable Hammerheads #16, Zebra Midges #18 – #20 in Red or Black, Perdigons #16 – #18, Psycho Princes #14 – #18, Hare's Ear Nymphs #14 – #16. #12 – #14 Lil' Spankers and other Pheasant Tail variants will imitate the larger March Brown Nymphs that are now beginning to emerge on the warmer days.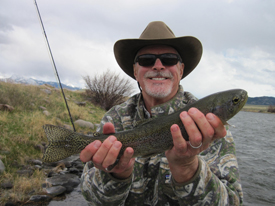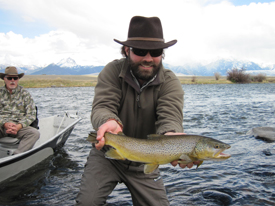 Dry Fly action has been good around Ennis and on the Lower Madison with the Mother's Day Caddis Hatch in full swing. Delektable Halo Caddis Emergers in Peacock and Olive #14 – #16, Delektable CDC Holographic Caddis in Olive are excellent patterns to imitate this hatch. Our Delektable Lil' Chubbies in the Olive tones have also fished well. Afternoons through evenings have seen the best action. Blue Winged Olive and Midge activity continues on the Upper Wade Section around Raynold's Pass and $3 Dollar Bridge. If the wind is calm and not super bright you can have some outstanding action up there.
The Streamer bite continues to be sporadic. Cloudy days have been better but still not lights out. As runoff begins and the flows come up, we should begin to see the Streamer action really begin to take off. Dead drifting, and varying your retrieves and color choices will get you into some fish if your patient and mix up your game a bit. And of course being out early or late when the light is low always is Streamer time.