In the beginning of September Dan Greene and Jeremy scored some huge fish with their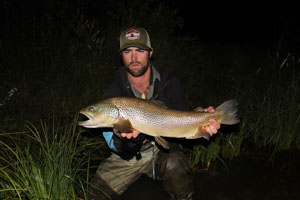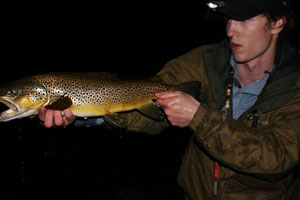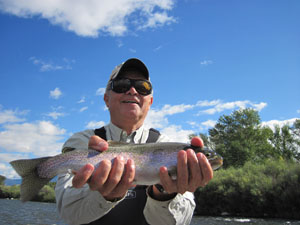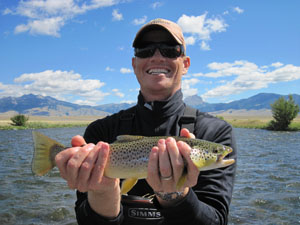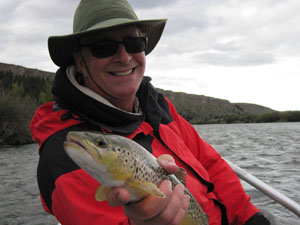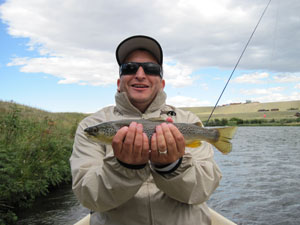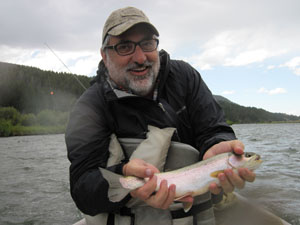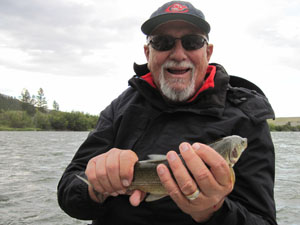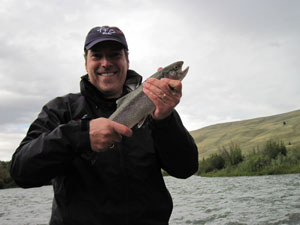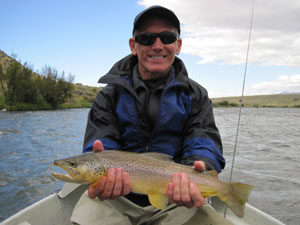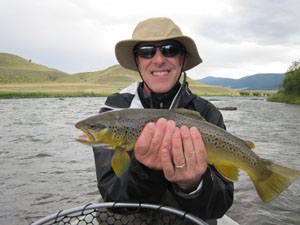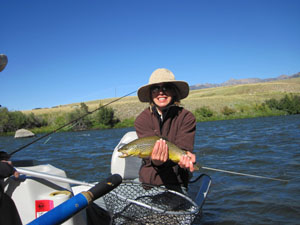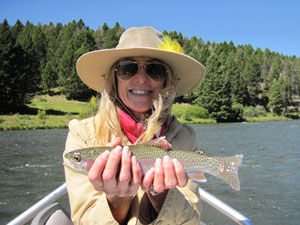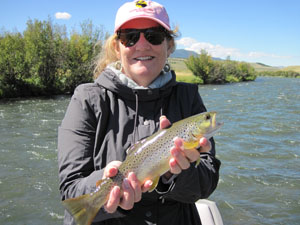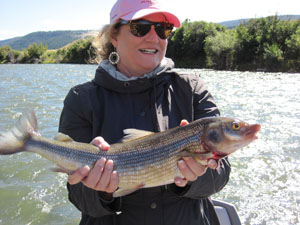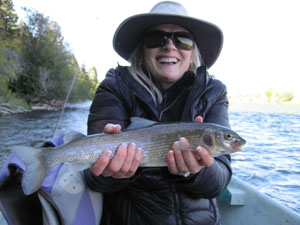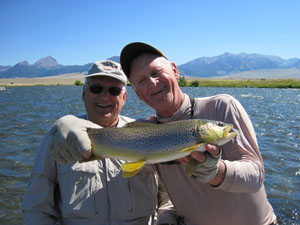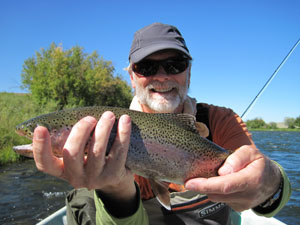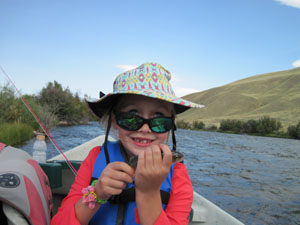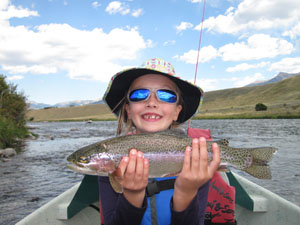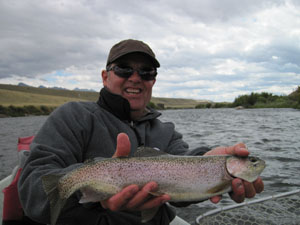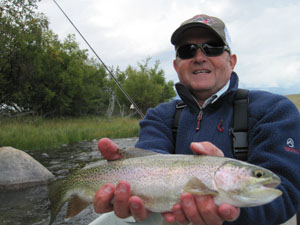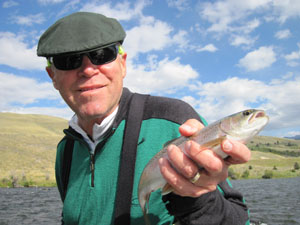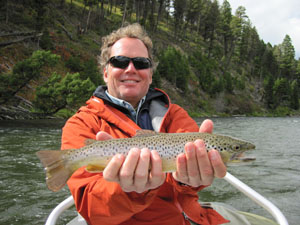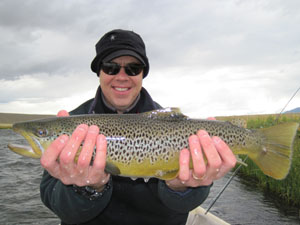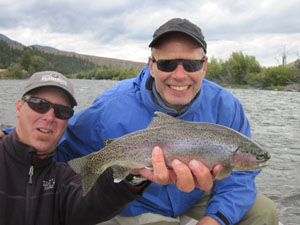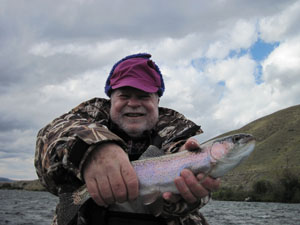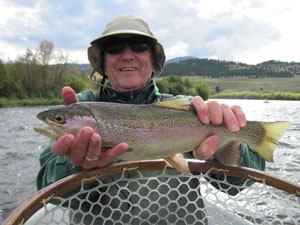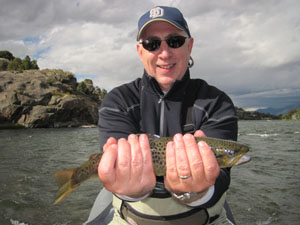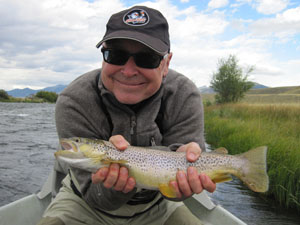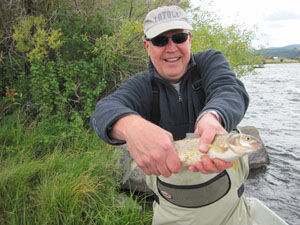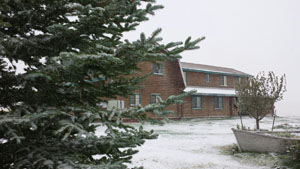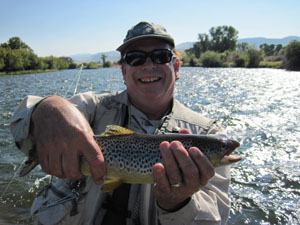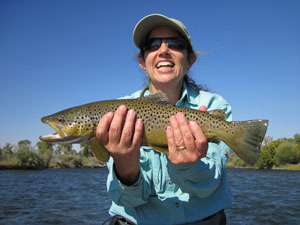 own tied Sculpin patterns. That was the beginning of our September fishing adventures.
We have seen a lot the first half of September, from gorgeous chamber of commerce days to a substantial snow storm, and great fishing … Lots of great fishing and some challenging fishing. It's been a bonanza for fishermen of all ages and skill levels, from seasoned veterans to young daughters on first fishing trips with their father.
We enjoyed a number of friends who came by and chatted flies, shopped, and fished. It's an awesome time of year to be on the river. Fishing has been mostly a meat and potatoes pattern for the fall, with most action coming on streamers, mostly sculpin patterns in black and olive trailed with small nymphs, including Lightning Bugs, Delektable Little Spankers, Prince Nymphs and a variety of Caddis and mayfly patterns, among others.
The weather has played a big part on the action. Streamers being best during overcast conditions. There also continues to be dry-fly action, with some fish being taken on Hopper patterns, but more consistently with Parachute Adams, Purple Haze/Craze, and Renegades in larger sizes. Fish in front of rocks, behind rocks, in the fast water, and in the slack water. Put movement on your streamers and sink them low. Make sure your dry flies float and you'll do fine.
Twitching the dries can be good as the trout like to be teased. For the big fish hunters out there, big articulated streamers have been catching some nice fish. The Delektable crew have been tying some pretty dramatic articulated streamers. You should stop by and check some of the patterns out.
To be more specific about the past couple weeks, some days have been really good for some and challenging for others switching back and forth from day to day. There have been days when nothing has worked at all and you could get skunked, there have been days when nothing works all day and then you get one really nice one at the end that makes it all worth it, and then there are the days when you can't keep fish off the end of your line. Isn't that what fishing is all about?
But then again, that is usually the tempo during late August and early September. Here at Beartooth Flyfishing we have had boats going out almost every day with all of the above results. No matter how good you are on the stick, some days the Madison will put you on the short bus to school. We have had an epic dry fly stretch here the past few weeks with caddis, ants and hoppers.
The Purple Haze along with good ole Adams has been killer lately in sizes 10, 12, 16, and 18. Funny yes, for some the big sizes were better and for others the smaller ones were better. There have also been some big October caddis flying around down near town. So, if you are down that way you'll want to throw some bigger caddis patterns underneath for sure but maybe on top also.
PMX's with the Delektable Limejuice would be a great hopper-dropper combo with the nymph being the Caddis Nymph. The ant bite has been off and on as it usually is. Some really nice fish have been caught on the size 16 and 18 Delektable ant in red and black. The Chubby Chernobyl has been a very good attractor as well as a great fly for the fish to eat still too. The best color has been the royal, but the tan ones have been turning and pulling some nice ones too.
Try a few different small sizes of the chubby if you can. We have started tying some of our own with Mr. Delektable's direction. Streamers have been working as usual here.
As we get into late September and October you will start to see those browns turning darker and pairing as they move a little to go up and spawn. Your basic colors are olive, black and white, but don't be scared to throw some different than normal streamer colors at them. Of course the Delektable Double Screamer has been good in Black and Olive, a favorite for this time of year. Some of our crew personally like the olive/brown/yellow combo lately. The Sculpin streamer called Trevor has been a hot pattern these past couple weeks so far with a number of guides enabling the catch of the most and biggest fish. He comes in olive, black and natural here at the shop.
The Zonker in Copper with Natural has continued to be good insurance fished on a dead drift or with a bit of action but always with a nymph below it imitating either a Caddis Nymph or with a prince or a PT. Have fun fishing!
The Delektable Crew