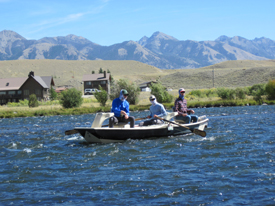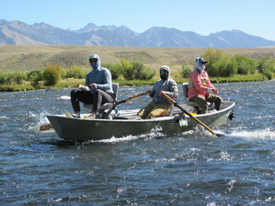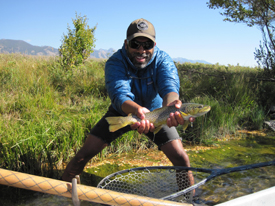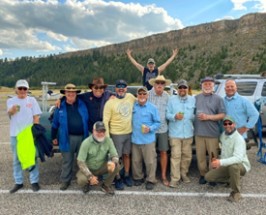 Another week has come and gone here in the Madison Valley. October is approaching quickly. Shorter days lie ahead in the very near future. It's been a mixed bag this week with the fishing action on the Upper Madison. We've seen some very tough days out there with the fish being finicky and selective and some good solid consistent days as well. We've had some pretty heavy wind as well for about the last four days making rowing a boat down the boulder field that is the Madison a bit of an adventure. Flows remain low and I would expect this to remain the same for the foreseeable future. With that said just know the River gets a bit boney down below 8 mile through the town stretch and down to Valley Garden. So those of you with the hard boats might get some new scrapes in the paint.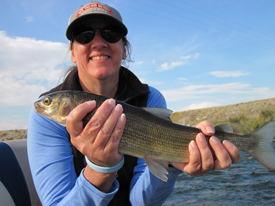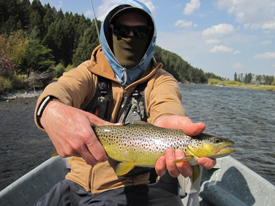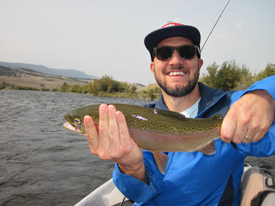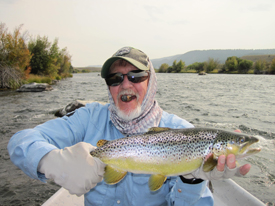 Streamers, Nymphs, and Dries when the wind is calmer are all in play on the Upper currently. We have some cool wet weather forecast for Sunday and Monday so that could get some BWO's up on the surface especially in the Upper Wade Section around $3 Dollar and Raynold's. Streamers are for sure the name of the game if you're out early. And you can definitely throw them all day now if you have the stamina for it. Zonkers and Sculpin Patterns are fishing best. Olive, Black, White, Olive/White colors seem to be the most consistent. It seems we will not be seeing that consistent good Hopper fishing we were spoiled with the last couple years. Definitely still have them as on some days they do turn onto them and it's best to have them in your quiver than not just in case.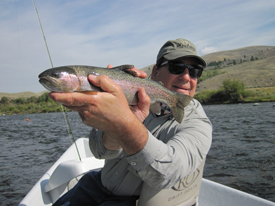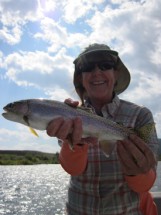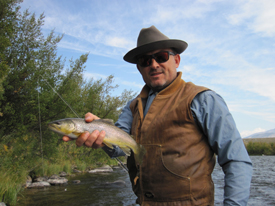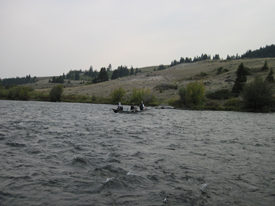 The Chubby/Hopper dropper rig continues to produce. And the Ant patterns are for sure your best bet for the closest thing you'll find to some consistent Dry Fly fishing right now. Nymphing as always gives you your best overall bet. The Trout seem to be looking for the smaller fair mostly now. Fishing smaller Stonefly Nymphs trailed with Small Attractor Nymphs and Baetis Nymphs are bringing some success. Think no bigger than a size #16 for your trailers now. With a lot of #18's in the mix as well.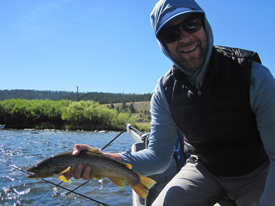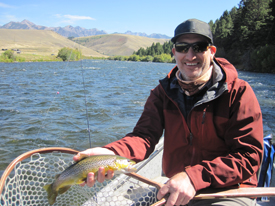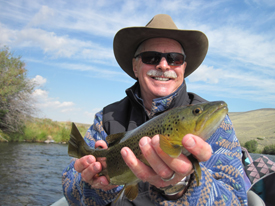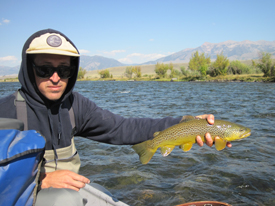 The Madison in the Park is beginning to heat up as a fairly good number of run up fish from Hebgen are now in the system. It's still not money time there yet. But there are definitely enough fish in to make the drive worth while and swing a runner or two up with some streamers or soft hackles. Early mornings are currently best for the Trout Spey crowd. And you can certainly Nymph some of those big runners up throughout the day and into evening. If you're new or interested in getting into the Trout Spey Game stop by and talk to Ryan our Shop Manager. He is a regular in the Park for the Fall Brown Trout Run and can give you some advice on Rods, Shooting Heads, Flies and all the fun that is Fall Fishing in YNP. There is something about being on the Madison inside the Park on a crisp Autumn morning by yourself. With the steam rising off the river, Bull Elk bugling, and walking the footsteps of the legendary anglers who have come before us is just something all Flyfishers should look to experience just once in their life if they have not had that opportunity.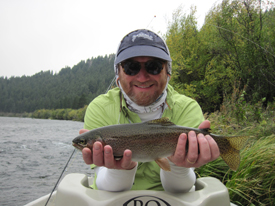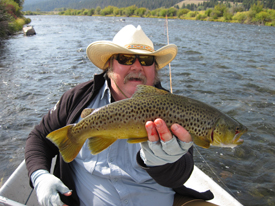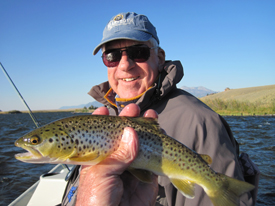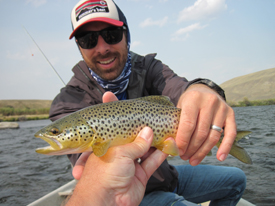 As always be safe out there. Enjoy this beautiful Fall Weather we are experiencing. And don't forget to look around and experience the breathtaking scenery we have surrounding us. It's so easy to get tunnel vison and focus on our Flies or Indicator and forget about the miracles of nature that surround us on each Outing. Feel free to call or stop by anytime for some Flies, advice, and all your flyfishing needs. Our shop hours are currently 8AM to 6PM 7 days a week.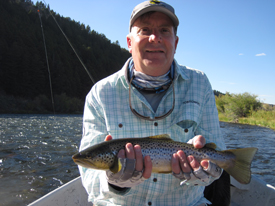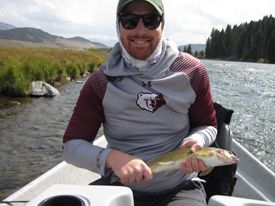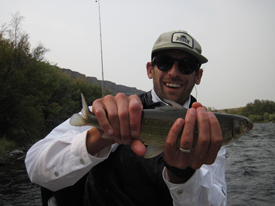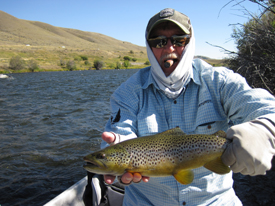 Dries: Delektable Chubbyness in Rootbeer and UV Cinnamon #14-#16. Delektable Lil' Chubby in Royal, UV Cinnamon, UV Black #16-#18. Delektable Flying Ant in Red, Cinnamon, and Black #14-#16. Bloom's Stealth Ant Purple #16. Delektable Secret Stone #10-#12 Dark Olive. Parachute Adams #12-#18. Carlson's Purple Craze #12-#18. Purple Haze #12-#18.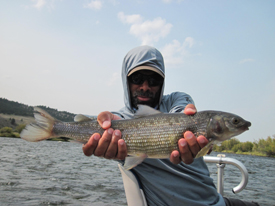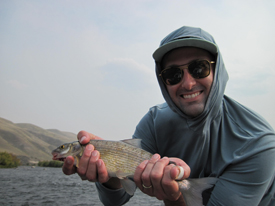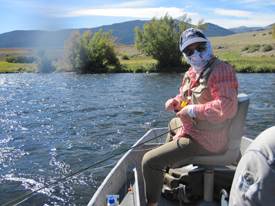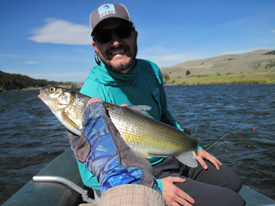 Nymphs: Delektable Mega Prince Standard and Flashback #8-#10. Pat's Rubberlegs in Black, Olive/Black #10-#12. Delektable Lil' Spanker in Silver, Red, Gold, Purple, and Pheasant Tail #16-#20. Shop Vacs #16-#18. $3 Dollar Dips in Red and Brown #16-#18. Crystal Dips #16-#18. Pheasant Tail Nymphs #16-#20. Beadhead Mo' River Pheasant Tail #18-#20. Tungsten BWO Splitback #18-#20. Olive Perdigons #16-#18. Micro May Brown or Olive #18-#20. Tung Teaser Black #18. Prince Nymphs #16-#18.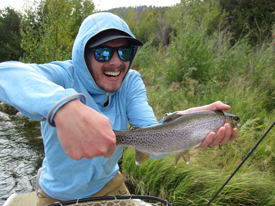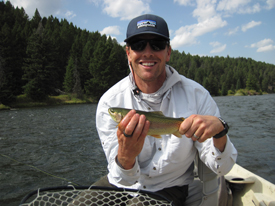 Streamers: Delektable Single or Double Screamer in Olive, Black, Olive/Black, White, Badger. Delektable SS Jointed Screamer White/Olive. Galloup's Dungeon Regular and Mini in Olive, Black, Cream, and White. Galloup's Silk Kitty Olive. Mini Loop Sculpin Olive and Natural. Sparkle Minnow and Sparkly Yummy. Zonkers in Silver, Copper, and Olive.
Soft Hackles: Full Dressed Red, Hare's Ear Soft Hackle, Pheasant Tail Soft Hackle, Partridge and Orange, Partridge and Olive.